If you have a number of research projects running in the same location it pays to combine some of the preparation.  Thus as part of five different studies and one PhD project, I'm currently in Kathmandu.  The projects are (1) the THET-funded intervention in Nawalparasi; (2) the CEL-funded qualitative research led by Dr. Catherine Angell on CPD (Continuous Professional Development); (3) the FHSS-funded project on transgender which is led by Dr. Pramod Regmi; (4) the FHSS-funded project with Pourakhi which supports Nepali women returning home after having been abroad as migrant workers;  and (5) the Green Tara Trust funded project on improving maternal health care in Dhading and Nawalparasi, and the FHSS PhD project is that of Mrs. Preeti Mahato.  Two of the project and the PhD topcic are closely related as all three cover maternity care in one for or another in Nawalparasi.  The planning meetings we are having in Nepal involve planning training sessions and workshops, resource allocation and research preparation.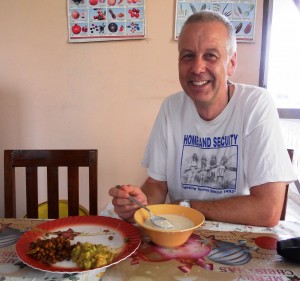 Fortunately, it is not all work.  Today I enjoyed Kheer (Achar and Chana) for lunch in the Green Tara flat in Kathmandu a lovely rice pudding with slightly sour green vegetables and chick peas (see photo).  The actual meal is traditionally health tomorrow but as this is the weekend the staff brought it one day forward so that I could join in too.
Finally, I like to thank colleagues who gave me mobile phones and a camera.  One of the mobile phones is already in use by one of the Nepali charity workers in Kathmandu. I bought a new battery and memory card for camera in the UK and it is working fine, the photo with this blog has been taken with the donated camera!
Prof. Edwin van Teijlingen (writing from Nepal).
Centre for Midwifery, Maternal & Perinatal Health Research