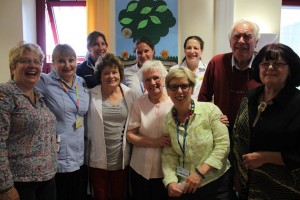 BU researchers Dr Caroline Ellis-Hill and Dr Carole Pound, from the Centre for Qualitative Research have been working with a team of older people with experience of stroke and staff from the Royal Bournemouth Hospital stroke team to explore the human dimensions of stroke care.
In August the team launched a Humanising Care Toolkit in a celebration attended by service users, relatives, staff and Board members at the Royal Bournemouth Hospital Foundation NHS Trust. The toolkit is a flexible resource which can be used by staff members once they have been through their own humanisation development. It includes a DVD of stories of humanising care, a set of creative materials to use in workshops and a pack of humanising care cards as well as a user manual and electronically produced presentations and handouts. Feedback from the launch event suggests hospital staff and managers are keen to explore ways the framework and toolkit may enable different units and staff groups across the Trust to notice, value and reconnect with compassionate, human centred care and practice.
'It's absolutely fantastic work that is going to be crucial to developing an inclusive human culture in the Trust.'
 Service user stories also highlighted the value they placed on both humanising care and being part of a research team. For example, Wynn New one of the service user participants commented:
When I first joined the action research group I was terrified of having another stroke. I thought I would never go out by myself again.  Taking part in the group allowed me to share my experiences and feedback – what worked and what truly made a difference to my recovery. I finally have my confidence back and my fear has disappeared. I count my blessings everyday.' 
Funded by the Burdett Trust for Nursing and inspired by the ground-breaking work of Les Todres (Emeritus Professor of Health Philosophy at BU) and Kate Galvin (Professor of Nursing Pract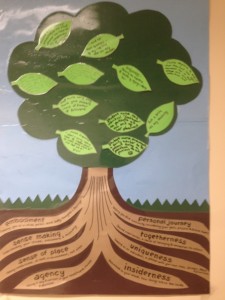 ice, Brighton University) the research team explored experiences of both stroke service users and providers in relation to a conceptual framework of humanising care. This framework, described in a seminal paper by Todres et al (2009) describes eight interacting dimensions that help capture the depth and breadth of being treated as human within complex, busy healthcare systems.  The work is part of a larger study led by Professor Kate Galvin.  A second site in Yorkshire worked with service users and NHS providers in a Dermatology out-patient department in order to look at the transferable aspects of humanisation theory and learning.
The project used action research methods with a focus on creative methods and collaborative sharing of stories and experiences. The team aimed to explore the relevance of the humanising care framework and get beneath the surface of what makes care feel more or less human. The stories, techniques and findings were then collated into a resource to support a new wave of busy NHS practitioners to understand and sustain humanising care in practice and become 'Humanising Care Champions'.
For more information on the Humanising Care Toolkit contact Carole Pound cpound@bournemouth.ac.uk or Caroline Ellis Hill cehill@bournemouth.ac.uk
For further information about the breadth of work at BU inspired by the humanisation framework please visit the Humanisation pages of the Faculty for Health and Social Care.
The launch of the toolkit was reported in a number of local papers, including the Blackmore Vale magazine.