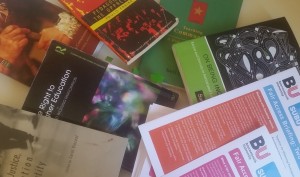 BU's Fair Access Research project concentrates on the idea of learning and working together to transform higher education. We are interested in how widening participation works differently in different institutions.
With this in mind, Maggie Hutchings and Alex Wardrop have been doing some fieldwork with colleagues in the north of England.
Widening participation is emerging as emotional work.  It is an emotional labour which sees personal stories intersect with and sometimes rub up against complex economic and political landscapes.
You can join us in this collective reflection and learning exercise by contributing to our survey. For more information about the organisational learning project, email Maggie on mhutchings@bournemouth.ac.uk
For more information about BU's innovative Fair Access Research, email the Principal Investigators, Dr Vanessa Heaslip (vheaslip@bournemouth.ac.uk) and Dr Clive Hunt (chunt@bournemouth.ac.uk)