Date: Monday 7 November 2016
Time: 9am-4:30pm
Location: Executive Business Centre (EBC), Bournemouth University, 89 Holdenhurst Road, Bournemouth, BH8 8EB
Register here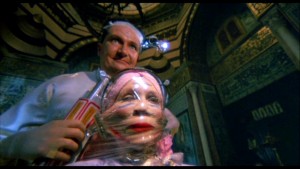 The Shelley Frankenstein Festival (BSFF) and BU's Women's Academic Network are joining forces to run an event exploring the Shelley Frankenstein Legacy as part of the ESRC Festival of Social Science.  It's nearly 200 years since the publication of Mary Shelley's Frankenstein and the festival in her honour, is an opportunity to celebrate her legacy.
The joint event offers us the chance to focus on feminism and the sociology of the text from historical and contemporary perspectives. BU social scientists will argue  and debate in two 'Question Time' style panels that will encourage wide participation and expression of views from the general public.  There will also be an opportunity to watch Kenneth Branagh's film 'Mary Shelly's Frankenstein'.
Many locals are unaware of the great ties Bournemouth has to the writer and her family. Interestingly, Bournemouth is the final resting place for Mary Shelley, despite never having lived or visited Bournemouth. Mary also wished to be buried with her parents, in spite of the fact that they were already buried in St Pancras, London at the time. Mary's son, Percy Florence Shelley, subsequently had his grandparents moved to be with Mary. Mary, her parents and her husband's heart are all currently entombed together in St Peter's Church, Bournemouth. This event will be a great opportunity to honour both Mary and her family, especially her mother, Mary Wollstonecraft, an early feminist writer.
Panel discussions:
Wollstonecraft's legacy: feminism for then and now!   With an introduction to Mary Wollstonecraft's A Vindication of the Rights of Woman.
Chair: Dr Heather Savigny, Associate Professor Faculty of Media and Communication
Panellists are:
Dr Charlotte Gordon (author of Romantic Outlaws),
Professor Candida Yates (author of The Play of Political Culture, Emotion and Identity),
Roberta Wedge  (from Mary-on-the-Green campaign http://www.maryonthegreen.org)
Christine Aziz (local author of the play 'Mary Shelley Goes to Hollywood')
 'Question Time' debate – Ethics, prosthetics and cosmeticisation: Troubling Dr Frankenstein in the 21st Century.  
Panellists will take questions from the audience concerning cosmetic, prosthetic, genetic, and life-enhancing surgery/medicine.
Chair: Professor Jonathan Parker, Faculty of Health and Social Sciences
Panellists are:
Dr Peri Bradley (editor of Food, Media and Contemporary Culture The Edible Image,
Professor Iain McRury (author of The Inner World of Doctor Who: psychoanalytic reflections in time and space),
Revd Dr Ian Terry (Team Rector of St Peter's Town Parish Church),
Professor Sara Ashencaen Crabtree (co-convenor of the BU Women's Academic Network, author of Death of the Dragon God Lake: Voices from Tasik Chini).
To find out more about ESRC's Festival of Social Science at BU, please visit www.bournemouth.ac.uk/esrc-fss or email esrcfestivalofsocialscience@bournemouth.ac.uk