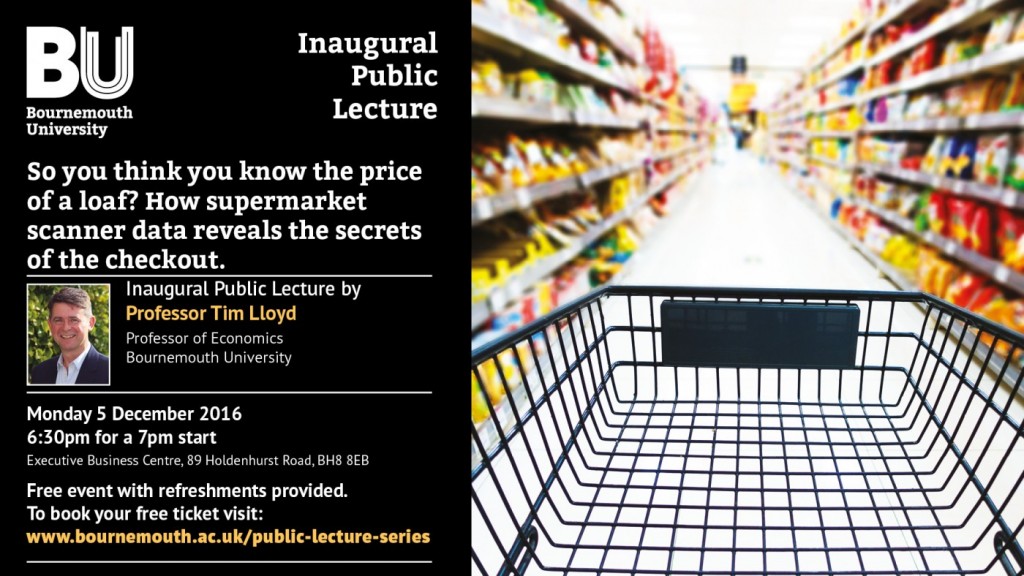 Most of us shop for food in supermarkets on a regular basis, but do we give enough thought to the data gathered about our shopping habits?  Barcode scanners can provide supermarkets with a wealth of information about consumer behaviour and food pricing.
Professor Tim Lloyd joined Bournemouth University in 2015 and is an expert in agriculture and food pricing.  His current research includes looking at the use of supermarket scanner data and the factors that lead to food price inflation within Europe.  His interest in food economics stemmed from his undergraduate studies when the focus was on food mountains deriving from European subsidies, offset by starvation in Africa as highlighted by Band Aid.
Fast forward to the present day, and the issues facing us now are quite different.  The prevalence of fast food and processed foods mean that people are at risk of both over-nutrition and malnutrition, while our high streets are dominated by multinationals with a keen interest in data about their consumers.
Professor Lloyd's lecture will share insights from his research into supermarket pricing, focusing on the widespread use of price promotions in modern food retailing.  It may just change how you shop.
Bournemouth University's inaugural lecture series aims to celebrate new professorial appointments and the depth and breadth of research produced by the university.  For further information on the inaugural lecture series, please visit www.bournemouth.ac.uk/public-lecture-series
About the event
To book your free ticket, click here.
Venue: Executive Business Centre, Holdenhurst Road.
Date: Monday 5 December.
Time: 6:30pm for a 7pm lecture start.
Refreshments will be provided at the event.
For more information about the event, please contact Rachel Bowen at rbowen@bournemouth.ac.uk.