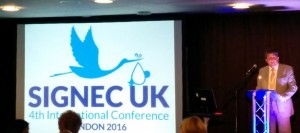 SIGNEC U.K. is a special interest group for NEC set up by Prof Minesh Khashu, Consultant in Neonatal Medicine, Poole Hospital NHS Foundation Trust and Visiting Professor at Bournemouth University. NEC or Necrotising Enterocolitis is a major cause of mortality and morbidity in preterm newborns. We do not understand well what causes NEC and unfortunately there has not been much progress in this area of clinical care in the last couple of decades. This led Prof. Khashu to set up this group.
The aim of SIGNEC U.K. is to facilitate knowledge sharing, networking and collaboration to optimise research and improvements in practice.
SIGNEC U.K. includes neonatologists, paediatricians, surgeons, dieticians, transfusion medicine specialists, epidemiologists, basic science researchers, nurses, trainees and other healthcare professionals with an interest in NEC and health improvement.
The group and its conferences attract the best researchers in the field from all over the world to share recent advances and improvements in practice. The conferences are unique in terms of scientific meetings as they have very strong involvement from parents/families. The work of this group has been very well received by clinicians, researchers and parents and it has become an important part of the global academic neonatal/prematurity/NEC calendar.– Prof Minesh Khashu
Recently, the 4th international SIGNEK UK conference in London brought together all these specialists in the field, as well as  parents, to discuss the latest basic and clinical research findings and improvements in practice.
My supervisor Dr Simon Dyall and I were delighted to be invited to attend this event, since, together with Minesh, we are looking at the role of essential fatty acids in perinatal health. As stated above, NEC is a major health concern in the perinatal period, which potentially benefits from essential fatty acids. Furthermore, the event was a perfect opportunity to network with people working in the field of perinatal health and to get more ideas for future research.
One of my personal highlights was the panel discussion on laboratory models of NEC, which was the first in the world to happen at SIGNEC UK 2016. Furthermore, I was impressed by the active involvement of parents, some of them who have lost a child to NEC, in the conference.
One of the non-scientific/clinical highlights was of course the tour through Chelsea Football Stadium during the lunch break.
Many thanks to Prof Minesh Khashu for organising the event and for the invitation and to Bournemouth University for the funding which made my attendance possible.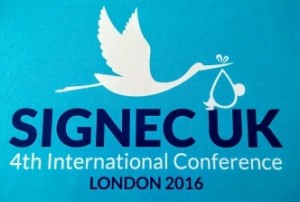 If you would like to learn more about SIGNEC UK or attend next year's conference, please contact Prof Minesh Khashu at mineshkhashu@gmail.com
If you would like to learn more about our research, please do not hesitate to contact me at inessel@bournemouth.ac.uk
Isabell