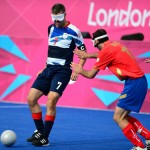 Did you know that more people play disability football than rugby league in the UK?
The pinnacle of disability sport is the Paralympic Games, and Bournemouth University are pleased to announce some of the major figures in disability football are coming to Disability History month. Both the GB/England captains will be sharing their stories- Keryn Seal (Blind captain) and Jack Rutter (Cerebral Palsy captain), as well as several members of the Rio 2016 Cerebral Palsy Paralympic Football squad (James Blackwell, Liam Irons, Giles Moore, Emyle Rudder). Accompanying them will be Jeff Davis who is National Elite Development Manager for disability football at the Football Association. Jeff has also led the GB football squads at three Paralympic Games, in his role as Performance Director at the 2008, 2012, and 2016 Paralympics.
The talk is part of Disability History Month 2006 and will take place on 5 December 2016, 17:00-18:00
The Disability History Month is a result of collaboration between Bournemouth Univetsity (BU) and Students' Union Bournemouth University (SUBU).
Look out for #bued1617 hashtag for  programme and talk updates.
Click Here to register for this event.