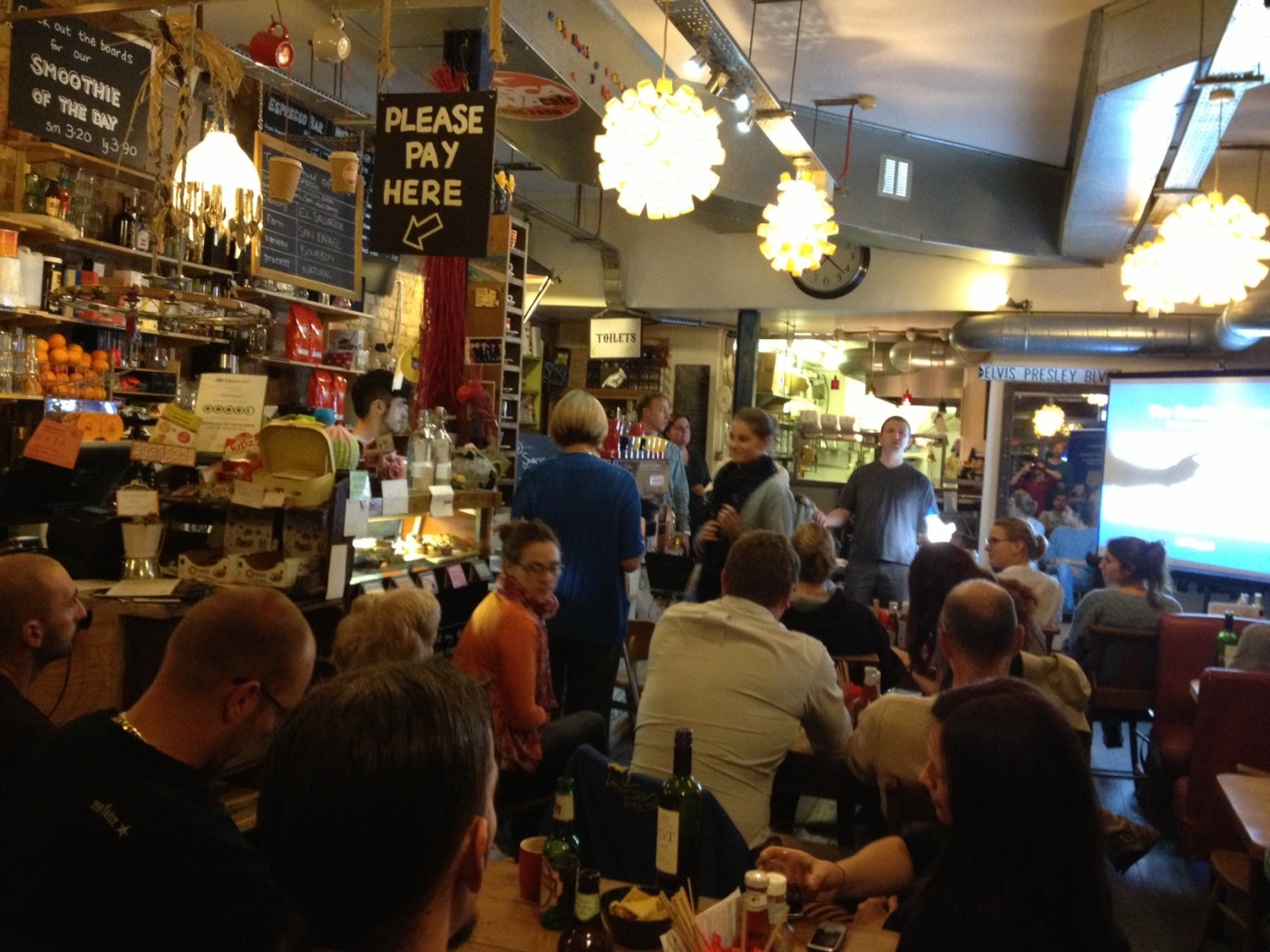 Last night witnessed the inaugural Cafe Scientifique in Bournemouth, and we are pleased to report that it was a great success!
With 45 people snugly squeezing into the amazing Cafe Boscanova, Prof Jeff Bagust gave a fascinating, entertaining and accessible talk  on the "Cardiac Foxtrot" which covered the topic of heart rhythms, how they are influenced and why our hearts need to respond to changing conditions. After Jeff's talk (and re-fill of the superb refreshments on offer), a lively discussed ensued. You can see the conversation on twitter here.
The organising team (Jonny Branney, Sharon Docherty, Becca Edwards  and Naomi Kay) received some great feedback, with comments including "a great night out – keep 'em coming" and "these events will maintain their enjoyability". For those of you that missed out, next month's event is on Tuesday 6th November titled "The Fastest Men On No Legs: Oscar Pistorius, Prosthetic Limbs and the Role of Technology in Elite Sport" by BU's Bryce Dyer.
On a personal note, as a recently appointed Research Development Officer for Public Engagement, I am delighted to see so much enthusiasm for this event. As a relatively new resident in Bournemouth (who for a number of years struggled to find this sort event locally) I am really proud to see such a vibrant community of people come together and have so much fun whilst learning about fascinating research.
Don't forget that Cafe Scientifique will be taking place on the first Tuesday of every month. You can keep up to date with details on the website, via Facebook, twitter or by e-mail.
If you have an idea of how to engage more of the general public with research, please do not hestitate to contact me on redwards@bournemouth.ac.uk or 01202 961206.