Many prestigious newspapers across the globe re-published a very interesting Associate Press article called 'At soaring rate, Nepalis seeking jobs abroad come home dead' on the plight of Nepali migrant workers in countries such as Malaysia, Korea, India and the Middle East. This article cited our co-author Nirmal Aryal who is a Nepali researcher based in New Zealand.  This newspaper piece also quoted our recent paper 'Injury and Mortality in Young Nepalese Migrant Workers: A Call for Public Health Action', which was published earlier this year in the Asian-Pacific Journal of Public Health  [1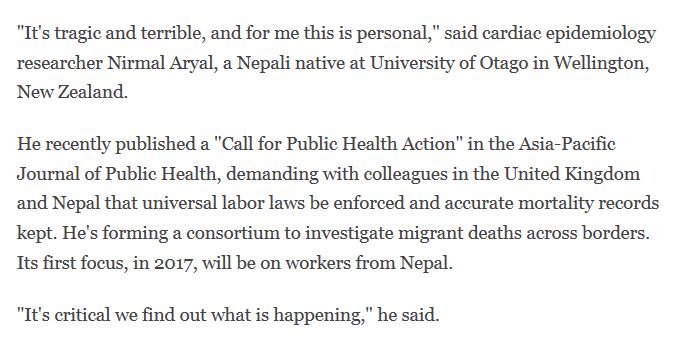 ]. This scientific journal has an Impact Factor of 1.72
We have received email message and tweets from colleagues and friends who spotted this article in newspapers in the United Kingdom, the United States, New Zealand (NZ), Taiwan, Nepal, India and many more countries as well as on several news websites. The article was sighted in North American papers such as The Washington Post, The New York Times, The Billings Gazette,  Dothan Eagle, The Daily Times, The Roanoke Times, Union Times, The Daily Courier, The Journal Times, Medicine Hat News. and many more. Whilst in Britain the article can be found on the webpages of the Mail Online.  In the Philippines the piece is on Inquirer.net 
Elsewhere we were alerted to The Hindustan Times in India, which is incidently one of the few papers that changed the original title of the Associated Press piece to 'Mysterious deaths: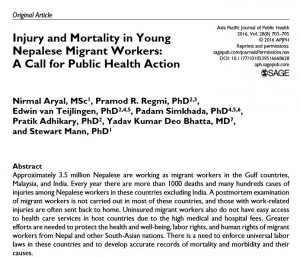 Nepalis working abroad come back home in caskets'.  Furthermore, as our colleague Nirmal Aryal is based in NZ it is not surprising that several newspaper there reported on the issue: The New Zealand Herald, The Dominion Post (NZ), and as expected several English-language daily newspaper in Nepal picked up the story, including The Himalayan Times, and The Kathmandu Post.
It's a pity that the original Associated Press article only refers to the BU collaborators as 'colleagues in the United Kingdom'.  We have a long-standing interest in the health and well-being of Nepali migrant workers in various host countries.  Dr. Pramod Regmi is post-doctoral research fellow in the Faculty of Health & Social Sciences (FHSS).  He is part of the BU India-HUB, which involves the study of Nepali migrant workers in India.  Prof. Padam Simkhada from Liverpool John Moores University is also BU Visiting Faculty in FHSS.  Dr. Pratik Adhikary is a recent BU PhD graduate who has published several articles on Nepalis migrant workers [2-3].  Finally, our work on Nepali migrants has also been submitted as a contribution to the BU's Global Festival of Learning.
Prof. Edwin van Teijlingen & Dr. Pramod Regmi
Faculty of Health & Social Sciences
References:
Aryal, N., Regmi, P.R., van Teijlingen, E., Simkhada, P., Adhikary, P., Bhatta, Y.K.D., Mann, S. (2016) Injury and Mortality in Young Nepalese Migrant Workers: A Call for Public Health Action. Asian-Pacific Journal of Public Health 28(8): 703-705. DOI: http://dx.doi.org/10.1177/1010539516668628
Adhikary, P., Simkhada, P.P., van Teijlingen E., Raja, AE. (2008) Health & Lifestyle of Nepalese Migrants in the UK BMC International Health & Human Rights 8(6). Web address: biomedcentral.com/1472-698X/8/6.
Adhikary P., Keen S., van Teijlingen, E (2011) Health Issues among Nepalese migrant workers in Middle East. Health Science Journal 5: 169-175. hsj.gr/volume5/issue3/532.pdf