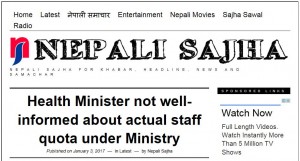 Yesterday's health promotion dissemination meeting in Kathmandu has been widely reported in the national media in Nepal.   Some of the national media focused largely (but not solely) on the words of the Minister of Health Mr Thapa, whilst the television news reports included the organisers and presenters at the event.  The Green Tara Nepal Health Promotion Dissemination conference in Kathmandu was supported by the Centre for Midwifery, Maternal & Perinatal Health at BU and Liverpool John Moores University (LJMU) and Green Tara Trust UK (a Buddhist charity based in London). BU has been working with Green Tara Nepal for the past eight years on a number of maternal health promotion projects in rural Nepal.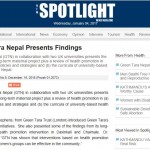 Overall the media in Nepal had difficulty understanding the notion of 'health promotion', therefore many journalists focused on health services as this was mentioned by the Minister of Health.
The event was also attended by BU Visiting Faculty Prof. Padam Simkhada (based at LJMU), CMMPH PhD student Preeti Mahato and FHSS Post-Doc. Dr. Pramod Regmi.
Prof. Edwin van Teijlingen
CMMPH