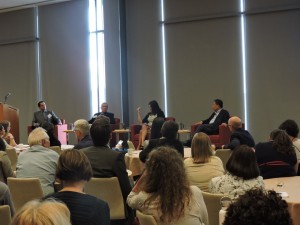 Bournemouth University has exemplified commitment to sustainable development (Eco-campus Platinum Award) and education for sustainable development (explicit in BU2018). In relation to research, we are a member of the Inter-University Sustainable Development Research Programme (IUSDRP). IUSDRP now has over 100 member universities from across all continents. Details are available at: https://www.haw-hamburg.de/en/ftz-als/programmes/iusdrp.html
I recently met with members at the 3rd World Symposium on Sustainability in Higher Education, held at MIT last September. I was a keynote panel member and also presented a paper which emerged from collaborative research. The conference resulted in the publication "Handbook of Theory and Practice of Sustainable Development in Higher Education" which comprises four volumes – details available at http://www.springer.com/series/13384?detailsPage=titles
Planning for the 4th World Symposium, to take place in Malaysia in 2018, will soon be underway. If you want further information about how you can become involved in the network, please contact me:
Following the UK Symposium in Manchester last year where Neil Smith (our Sustainability manager) and I presented a paper, a book has now been published: Sustainable Development Research at Universities in the United Kingdom: approaches, methods and projects, edited by Walter Leal Filho. Springer, Berlin, January 2017, ISBN: 978-3-319-47882-1, eISBN: 978-3-319-47883-8 Link: http://link.springer.com/book/10.1007/978-3-319-47883-8
Symposium on Education and Sustainable Development in Cities and Regions, Passo, Fundo, Brazil, 11th -12th January 2017 Guess it's a bit late now but details available at: https://www.haw-hamburg.de/fileadmin/user_upload/FakLS/07Forschung/FTZ-ALS/Veranstaltungen/_PDF/BRAZIL_Symposium_SD_2017.pdf
Symposium on Implementing Sustainability in the Curriculum of Universities: teaching approaches, methods, examples and case studies, Manchester, UK, 7th March 2017 https://www.haw-hamburg.de/fileadmin/user_upload/FakLS/07Forschung/FTZ-ALS/Veranstaltungen/_PDF/Symposium.SDintheUK.2017-1.pdf
World Symposium on Sustainability Science and Research, Manchester, UK 5th-7th April 2017. Over 100 sustainability researchers will gather to discuss how best to implement the Sustainable Development Goals. Last minute inputs may be possible: https://www.haw-hamburg.de/en/ftz-als/events/sustainability-science.html
Training Course on Research Publishing on Sustainable Development for Institutions of Higher Education, Manchester, UK 10th May 2017- this training course will be of special interest to anyone interested to capitalise on the many advantages that publishing on sustainable development brings about https://www.haw-hamburg.de/en/ftz-als/events/publishing.html
Symposium on Sustainable Development Research in Asia-Pacific, RMIT, Melbourne, Australia, 25th to 28th July 2017 https://www.haw-hamburg.de/en/ftz-als/events/sustainable-development-research2017.html
Call for Papers for a new book: Lifelong Learning and Education in Healthy and Sustainable Cities Editors: Azeiteiro UM, Akerman M, Leal Filho W, Setti AFF , Brandli, L.L. This book collects interdisciplinary reflections from researchers, educators and other experts about the linkages between environmental quality, human health, human education and well-being including inequality, unplanned urbanization, migration, lifestyles, and consumption and production patterns. We plan assembling interdisciplinary contributions covering wide-ranging case studies to concise reviews to conceptual approaches from different regions and contexts. The contents to be included in the book will comprise 20 to 30 articles covering, but not limited, the following main topics:
Urban planning to address inequality in health and urban poverty;
Healthy Cities and Healthy Environments;
Governance for sustainable development;
Social determinants of health oriented to sustainable development goals
Education and Lifelong Learning for Sustainability
Energy Security, Access and Efficiency
Sustainable Cities & Sustainable Buildings & Sustainable Infrastructure
Ultimately, this book aims at assembling wide-ranging contributions from different regions / contexts from case studies, reviews, outputs of research/studies, examples of successful projects, to theoretical and conceptual approaches, which will document current initiatives on healthy and sustainable cities/environments emphasizing mechanisms to climate change adaptation and to the achievement of sustainable development goals in a period of unprecedented global urbanization.
Expressions of interest to contribute to the book, consisting of a 200 words abstract with all contact details from the authors, should be sent to editors (walter.leal@haw-hamburg.de, brandli@upf.br, ulisses@ua.pt, andreiasetti@gmail.com) preferably by 15th January 2017. Papers should be in English, up to 6.000 words including references, written in Times Roman 12 and single-spaced. The first draft of chapters is to reach the editors by 30th April 2017. Editorial comments, after Peer Review, will reach authors by 31th May 2017. Revised papers will need to be (re)submitted by 30th June 2017.
Finally, this is a great network for collaboration with others on all issues related to sustainability. I shall post further opportunities as they arise