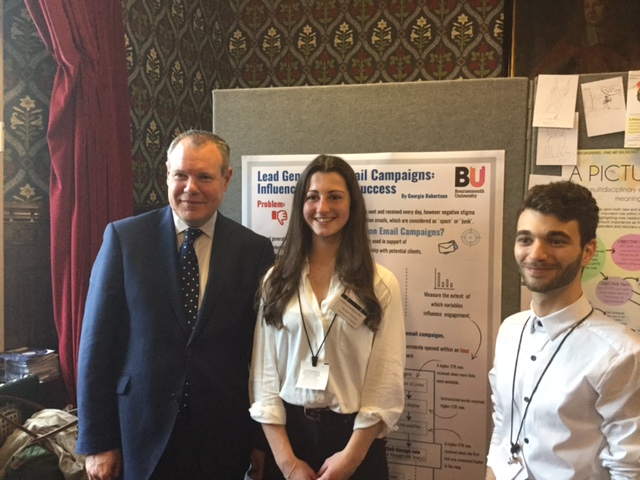 Now in its fifth year, and for the fourth year running for BU, the Posters in Parliament exhibition has given MPs a window onto the innovative research undertaken by university undergraduates across the UK. The annual exhibition at Westminster is part of BCUR – the British Conference of Undergraduate Research– which BU is hosting this April, an open coalition of universities dedicated to encouraging a national culture of research at undergraduate level.
Staged this year by UCL, the exhibition showcased the work of 52 students from 27 universities, with BU undergraduates among them:
"The Posters in Parliament exhibition was a remarkable experience. It was technically a competition and there were some very worthy entries, but that was just a small part of the overall celebration and culmination of incredible research from a breadth of subjects. From music to science to media and back again, I was humbled to be a part of it" Jordan Ezra, in his final year of Digital Media Design (FMC).
"It was an amazing experience to stand alongside other passionate and inspiring students in the Houses of Parliament …I truly appreciate the support from all who attended but also those who approached me asking questions on my research. I am so happy and proud to attend and I am certainly looking forward to attending the BCUR in April". Georgia Robertson, final year Events & Leisure Marketing student (FM).
The posters on display explored an impressive range of research topics, including eg everything from the relationship between short-term memory and inner speech, the impact of dieting on mortality in obese adults, the reasons for low participation in physical activity by older South Asians in the UK and the role of the West in the development of the Ukraine crisis.   Other uni's attending included eg: Lancaster, London Met, LSE, Queen Mary, Teeside, UCL, Leeds, Reading, Sheffield, Sussex, Warwick, York etc.
Bournemouth's own Conor Burns and Tobias Ellwood along with Hilary Benn (Leeds), Ben Bradshaw (Exeter) and Caroline Lucas (Brighton) were among the MPs who attended the event on Tuesday 14 March.  Each year prizes are awarded to the best posters. The judging panel is made up of leaders in the higher education and research sectors and this year consisted of, Naomi Saint, Universities Programme Manager at Parliament, Diana Beech, Higher Education Policy Institute, Professor Dilly Fung, UCL and Professor Stuart Hampton-Reeves, UCLan.
UCLan's Professor Stuart Hampton-Reeves, Chair of the British Conference of Undergraduate Research (BCUR) Steering Group, said: "The students whose posters are included here represent the next generation of innovators and academics. Their discoveries are already helping to further our understanding of the big challenges facing the world today." Hilary Benn MP (Leeds) said: "Shut your eyes and listen to that buzz! It's ideas, it's determination and it's cutting-edge research. This is the sound of the future. It's fantastic that this event has taken place in Parliament today."
The event was sponsored by Keir Starmer, MP for Holborn and St Pancras, Chuka Umunna, MP for Streatham, and Naomi Saint, Houses of Parliament Universities Programme Manager.
The 2017 British Conference of Undergraduate Research meets annually every Spring in a different British university to showcase research by undergraduates at all levels and in all disciplines. The 2017 Conference will be held in Bournemouth on 25-26 April and also comes out of BU's hosting of SURE (Showcasing Undergraduate Research Excellence) conference first held in 2015.