Representing the research team from Bournemouth University, Sarah Hodge presented cross-disciplinary PhD research at two conferences in Las Vegas (April) and Denver (May).
The first conference Broadcast Education Association (BEA) included a symposium organised and attended by key academics in the area of psychology and gaming and within this Sarah won top paper in the symposium track and 2nd place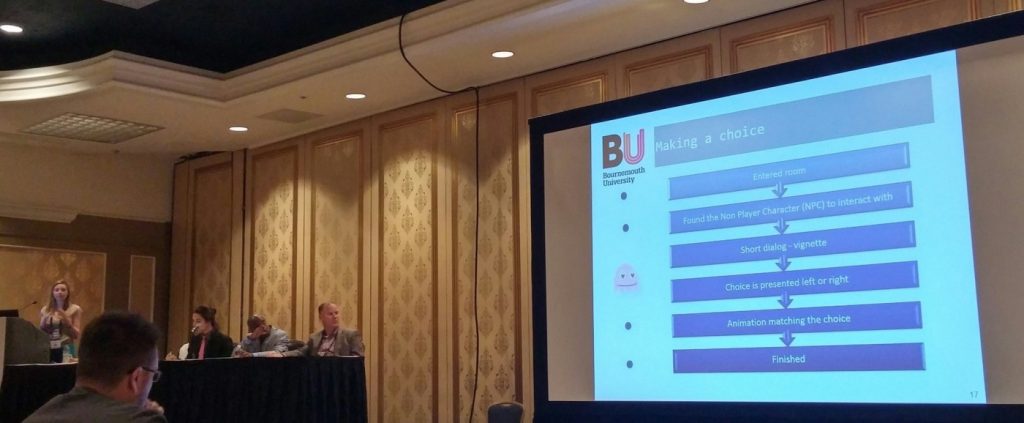 student paper. The research presented was funded by the University Student Research Assistant (SRA) scheme, which involved collaboration between departments and faculties. The research involved creating a game to measure in-game moral decisions. The research team included Jacqui Taylor and John McAlaney from the Department of Psychology, Davide Melacca and Christos Gatzidis from the Department of Creative Technology, and Eike Anderson from the National Centre for Computer Animation.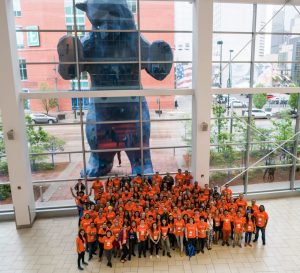 At the second conference Computers in Human Interaction (CHI), Sarah had a workshop paper accepted on Ethical Encounters in Human Computer Interaction and this naturally stimulated many interesting questions about ethics in research. Sarah was a student volunteer at the conference. Sarah was a Chair student Volunteer at British HCI 2016 that was held at Bournemouth University last summer and this experience supported being accepted as a Student Volunteer at CHI. From this experience Sarah was assigned the role of Day Captain, which involved supporting and overseeing the other student
volunteers with their duties. Sarah found it to be a great experience and highly recommends other students to consider being a student volunteer as a great chance to network and it also helps with funding conferences as the registration fee was waived.
Hodge, S. Taylor, J & McAlaney, J (2017). Restricted Content: Ethical Issues with Researching Minors' Video Game Habits Human in Computer Interaction (CHI) May, Denver USA
If you would like more information about the research please contact: shodge@bournemouth.ac.uk