End of June, management academic Dr Tim Breitbarth (Department of Sport & Physical Activity) was invited to Berlin to provide an opening keynote as part of his EU-funded advisory role to the German Ministry of Research and Education, respectively the German Academic Exchange Service. The one-day seminar on innovative ways to promote and facilitate non-academic staff mobility was attended by 65 mostly German university representatives managing internationalisation. The title of his speech was "Non-academic mobility in the light of higher education strategies, management and organisational culture". Tim's input provided a frame and reference point for subsequent presentations, discussions and workshops.
Despite the crucial backbone non-academics (should) provide to support both scientific excellence and students' global citizenship, their role has been widely neglected in higher education internationalisation strategies and operations across Europe. This is indicated by the fact that only maximum 7% of all mobilities are by non-academic staff (excluding staff from international offices).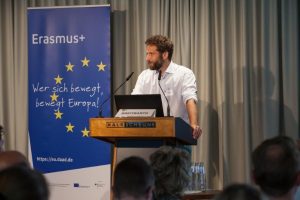 Based on Tim's visibility during this event, BU might be able to take part in a European research project looking at the impact of a university's global engagement on the respective region along social, cultural and economic dimensions. Also, Tim brought back an inspiring practical example of how global mindset can be inspired and developed amongst non-academics in particular through an organisational development scheme.
Dr Tim Breitbarth (Principal Academic and Global Engagement Lead, Department of Sport & Physical Activity) is available at tbreitbarth@bournemouth.ac.uk