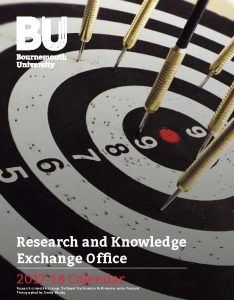 Hopefully most of you will have received by now one of our fabulous new RKEO calendars – however if you have been missed please don't fret or despair!
If you are based on Talbot Campus we have left some spare copies in The Staff Centre and whilst there check out our display of other materials relating to RKEO activities and our RKEDF. If you are based at Lansdowne we have left some in the Wellbeing Centre.
Otherwise please contact me Dianne Goodman and I'll get one sent out to you asap.
The calendar starts now from September 2017 through to July 2018 (no August entry as we all need a well-deserved rest).  It props up nicely to stand alone on your desk.  The calendar contains many images from the BU Research Photography annual competitions and highlights the dates of:
RKEO led events provided for BU staff, such as >150 RKE Development Framework training and development opportunities; key festivals, such as ESRC FoSS and BU's Festival of Learning; key sector events, such as Open Access Week; Café Scientifique, and many more
Closing dates for major external funding opportunities
Information on key BU initiatives, such as student engagement, the RKEDF, and ethics
Information on key sector wide initiatives, such as the REF, Open Access, as well as information on various funders and how to find funding opportunities
Useful links and RKEO contact information
**Make sure you don't miss out – check you have your copy today!