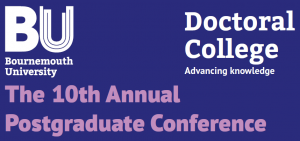 The Annual Postgraduate Conference showcases some of Bournemouth University's best postgraduate research, providing PGRs the opportunity to present and disseminate their research to their peers, colleagues and the wider BU community.
Applications Now Open
Abstracts are invited for oral, poster and photograph presentations. To submit an abstract, download and complete the Application Form following the How to Apply Guidance.
Please note the selection process is competitive. Oral abstracts will be shortlisted by an academic panel and you will be advised if you have been successful after the closing date.
Call for abstracts is now open and closes at midnight, Thursday 4 January 2018.
Email your fully completed application form to: pgconference@bournemouth.ac.uk