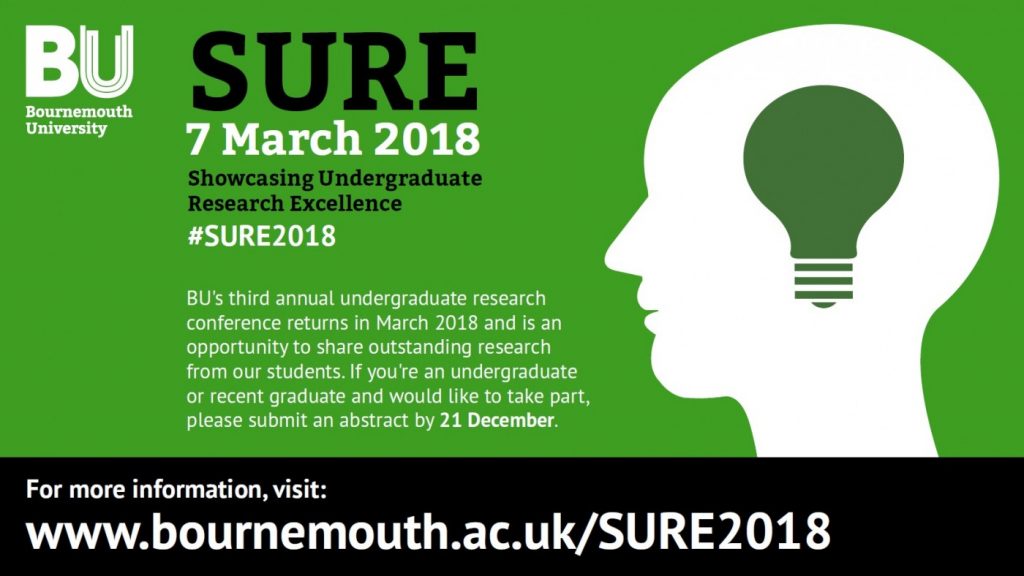 Bournemouth University's annual undergraduate research conference – Showcasing Undergraduate Research Excellence (SURE) – returns for a third year in March 2018
As well as giving students a supportive platform to showcase the quality of work they do, it gives others at BU an insight into the excellent research undertaken by our undergraduates.  Not only is it a unique opportunity to further develop skills, prizes will also be available which include a fee waiver for a Master's course at BU for the best overall contributor.
All undergraduate students at BU are eligible to apply, as are recent graduates.  Examples of research could be anything from preparing for a dissertation or an essay to work carried out during a placement year to volunteering or work with academic societies.  The key criteria is to be able to evidence critical thinking through the work.  Please do encourage your students to apply.
---
How to apply
To apply to present at SURE 2018, students will need to submit an application form, which includes a 250 word abstract, to sure@bournemouth.ac.uk.  Please read our 'how to apply' guidance first.
Abstracts will be accepted for oral or poster presentations.  If a student would like to present your research through another medium – a film, art exhibition or performance – please contact sure@bournemouth.ac.uk initially.
The deadline for submitting abstracts has been extended Friday 12 January 2018.
---
Prizes
Best overall contribution – a fee waiver to any BU Master's
Best original research via oral presentation – 4 x £350 funding (1 per Faculty) for students to attend and present their research at the British Conference of Undergraduate Research
Best poster, demonstration or art installation: 4 x £25 Amazon voucher (1 per Faculty)
---
Conference attendance
SURE 2018 will take place on Wednesday 7 March 2018.  Registration for the conference will open in January 2018.
Staff and students from across BU are encouraged and welcome to attend.
---
For any queries, please contact sure@bournemouth.ac.uk or visit www.bournemouth.ac.uk/SURE2018.