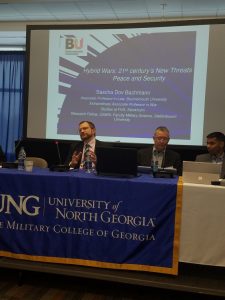 The Institute for Leadership and Strategic Studies (ILSS) was formed in September, 2015 on UNG's Dahlonega Campus. The vision of the Institute is to make the Corps of Cadets a nationally-recognized program of choice for students pursuing careers as successful leaders in the U.S. Army, government and non-government agencies, and corporations with global interests, in support of U.S. national security. Graduates of the Corps of Cadets are highly sought after.
Sascha was invited to share the findings of his ongoing work (see
BU Research News
) on
Sascha reflected on his work with various organizations and security actors such as US CENTCOM, NATO and national academic partners such as the Swedish Defence University, the Austrian Ministry of Defence as well as the
UK Parliament's Defence Select Committee.