Our latest book Social Work with Disadvantaged and Marginalised People (Prof Jonathan Parker & Prof Sara Ashencaen Crabtree)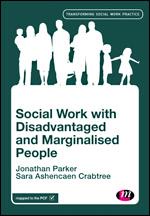 is published by Sage. The work offers theoretical and practice based perspectives and insights into the complexities and importance of working with people at the margins of societies. Everyone who works with people and especially social and community workers need to understand the powers and processes that lead to disadvantage and marginalisation and to develop the knowledge, skills and values necessary to bringing about positive change and upholding social justice and human rights.
This need is reinforced in our present uncertain and insecure times. When the idea of writing this book was first mooted by our publishers we wondered what new approach could be brought to an area that seemed well trodden already in social work. What we found during the process of writing, however, was that there was a great deal to say on this hugely, perhaps fundamentally, important topic, in relation to the transition of social work as a profession operating in a society riven with inequities and divisions.
All times are 'interesting' for someone somewhere, but it seems a truism that we are currently living through a time of monumental and deeply uncertain transitions in the UK that will have a decisive bearing on lives and futures. Within the country we see that public services are stretched to crisis point and that public service pay caps are plunging public sector workers and many other working people into penury. We see that poverty is increasing, incomes are falling compared to rising household costs, and social welfare nets offer considerably less security than formerly.
Where then does this leave today's social work graduates for whom amongst others, we have written this text? They are entering a beleaguered, under-funded profession and it could be said that social work is living through the 'worst of times', but, maybe also one of the best, to paraphrase Dickens' novel A Tale of Two Cities. The knowledge base of social work often constructs the concept of crisis as creating the tipping point to necessary change. We would suggest that this maybe where we currently are in England, we certainly hope so. For while the slow and unedifying helter-skelter journey downwards has taken time, as will the spiralling journey upwards, this can occur and maybe must occur, for the profession to survive. If change does happen and the profession eases itself up to a standing position, bedraggled and in tatters maybe, it should also take matters into its own hands and refuse to serve as political 'whipping boy' any longer, in the interests of marginalised and disadvantaged individuals and families everywhere in the England and the UK as a whole. If it fails to do this then it could be that social work in England, at least, will not survive into the future as a recognisable profession that adheres to international standards and values. If such were the case, then that indeed would be counted among the greatest national tragedies of our time.