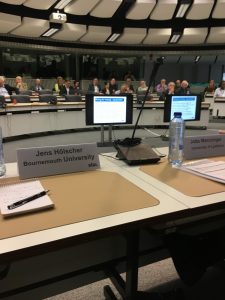 Narrowing the gaps: 30 years after the transition started
and 14 years after enlargement – where are we on
convergence?
Conference organised by the European Trade Union Institute
(ETUI)
Brussels, 25 January 2018, 14h30-17h00
European Economic and Social Committee
ETUI organised a conference to openly debate effects of transition and EU integration on the
Central and Eastern European countries and what this means in terms of upwards convergence
for the region.
The Central and Eastern European countries have gone through an intense economic transition
over the past 30 years and joined the European Union 14 years ago with the aspiration to have an
upwards convergence with the then EU-15. Research is showing that while convergence has
clearly occurred, this has not benefitted all regions and groups in society equally.
In addition recent research has concluded that the economic models on which the CEE countries
have built their convergence could become a trap for future developments in the region. Against
this backdrop, the conference will assess if current economic models and policies are
responding the regions aspiration for upwards convergence, and if not what then needs to be
done about it. Questions to be addressed are : what economic structure are relevant for the
future development of the region? How can collective bargaining contribute to this? What is the
role of the European institutions in ensuring upwards convergence? etc.
The conference is coinciding with the retirement of ETUI Senior researcher and Head of Unit
"Economic, employment and social policies" Martin Myant, whose research agenda has strongly
contributed to the thinking about the effects of transition and EU integration on the CEE
countries. A drink will be held in his honour at the end of the conference.
Jens Holscher took part in the round table discussion as invited speaker.