On Wednesday 28th February 2018 guest composer Dr Annie Mahtani, University of Birmingham and Birmingham Electroacoustic Sound Theatre (BEAST), joined us for a concert of multi-channel, surround-sound music for Loudspeaker Orchestra in the Allsebrook Lecture Theatre. Organised by Ambrose Seddon (EMERGE; Creative Technology), the varied programme featured works from BEAST and BU composers.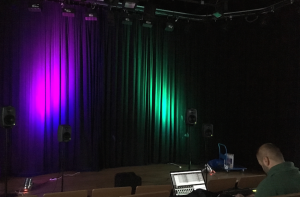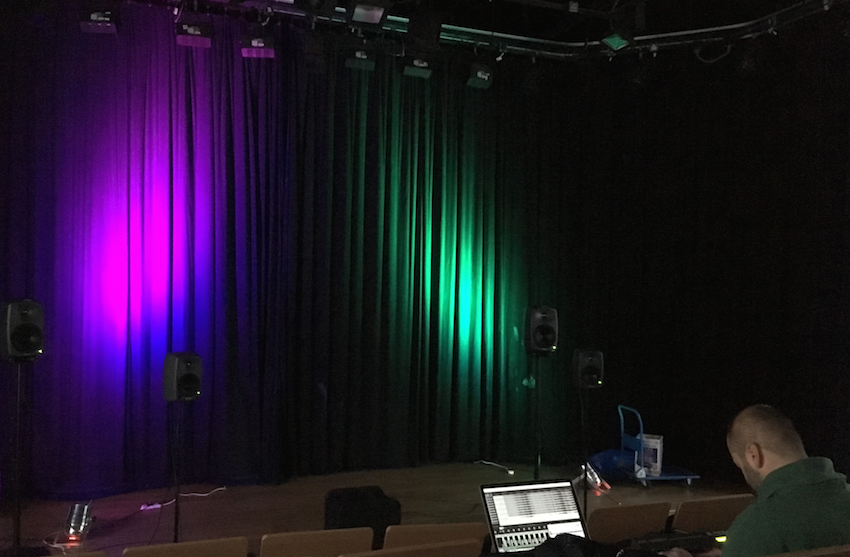 Annie Mahtani presented and diffused three of her own multi-channel compositions (Inversions; Past Links; Aeolian) along with works by fellow BEAST composers James Carpenter (Pent-Up) and Nikki Sheth (Orford Ness). Ambrose Seddon diffused his recent multi-channel electroacoustic work Traces of Play while Panos Amelidis (EMERGE; Creative Technology and pictured sound-checking) diffused two compositions: Bird Train and Cracks.
Student volunteers from our BSc Music & Sound Production Technology provided crucial help rigging the loudspeaker system – they also gained invaluable insights into novel surround-sound loudspeaker configurations.
Thanks to all who attended and persevered despite the cold conditions!