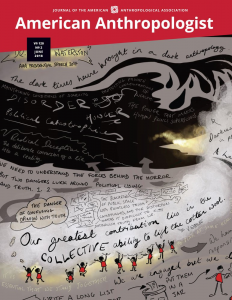 The first review by a Bournemouth University academic  in the prestigious  journal American Anthropologist was published in its February issue.  Dr. Sue Sudbury who is Principal Academic in

Media

Production reviewed the film 'The Anthropologist' [1].  She wrote in this Open Access review that this film raises many interesting issues about the role of the anthropologist and deftly illustrates the divide that exists when different cultures come together.   Her conclusion of the review is that 'The Anthropologist' is an intriguing and memorable film about environmental anthropologists and the important work they do collecting and telling the stories of people whose lives are being reshaped by climate change. It is also about the relationship between female anthropologists and their daughters. As such, it does an important job of introducing the subject and will no doubt generate discussion, but it is not an anthropological film and doesn't claim to be.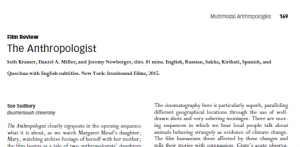 The second one, a book review this time, appeared this week in the June issue.    Prof. Edwin van Teijlingen in Bournemouth University's Centre for Midwifery, Maternal & Perinatal Health (CMMPH) reviewed the book Midwives and Mothers: The Medicalization of Childbirth on a Guatemalan Plantation by the American anthropologist Sheila Cosminsky [2].  He reminds the reader that some of the work in this book work has previously been published in articles, as clearly stated in the acknowledgments (p. xii).  He highlights that "on reading the book I remembered with joy snippets from some of the articles on Doña María I read nearly thirty years ago while working on my PhD thesis." Cosminsky does a great job of bringing together a lifetime of anthropological (field)work in a comprehensive and easy‐to‐read book.
It is not often that we see reviews written by BU staff in this impressive journal, let alone two in subsequent issues.
References:
Sudbury S. (2018) The Anthropologist

 Seth Kramer, Daniel A. Miller, and Jeremy Newberger, dirs. 81 mins. English, Russian, Sakha, Kiribati, Spanish, and Quechua with English subtitles. New York: Ironbound Films, 2015, American Anthropologist 120(1): 169-170.
van Teijlingen E. (2018) Midwives and Mothers: The Medicalization of Childbirth on a Guatemalan Plantation by Sheila Cosminsky, American Anthropologist 120(2): 369.