Festival of Learning event 2018 with an international flavour: exploring recent research projects undertaken in Nepal by staff from the Faculty of Health and Social Sciences. The event focuses on Nepali migrant workers in India, women and migration and explores the health and social issues of transgender and the use of hormone therapy in male-to-female transitioning populations in Nepal.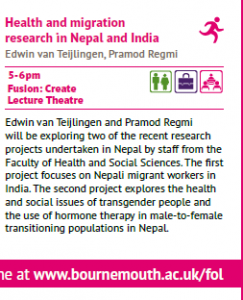 Fusion Building: Create Lecture Theatre, Bournemouth University on Saturday 16 June 2018 from 5.00-6.00PM
Free tickets can be found here!
Prof. Edwin van Teijlingen, Dr Pramod Regmi & Prof Padam Simkhada (BU Visiting Faculty)