The Journal of Immigrant and Minority Health (Springer) just accepted the latest paper by former FHSS Ph.D. student Dr. Pratik Adhikary (photo). [1]  His latest paper 'Workplace accidents among Nepali male workers in the Middle East and Malaysia: A qualitative study' is the fourth, and probably final, paper from his Bournemouth University Ph.D. thesis.  This latest paper is based on the qualitative part of the mixed-methods thesis, his previous papers focused more on the quantitative data. [2-4]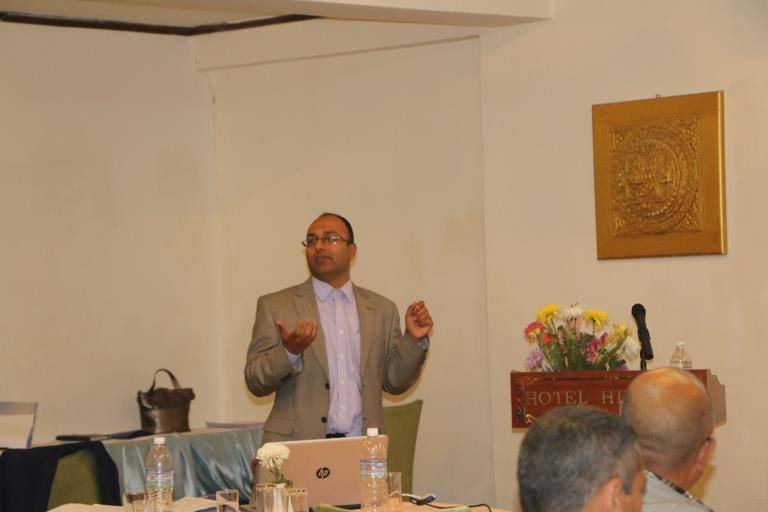 Since this is a qualitative paper it also offers a more theoretical underpinning than the previous papers.  The work uses the dual labour market theory which associates labour migration specifically to the host economy as it explains migration from the demand side. Labour migrants from less developed economies travel to fill the unskilled and low-skill jobs as guest workers in more developed economies to do the jobs better trained and paid local workers do not want to do.  This theory also explains the active recruitment through labour agents in Nepal to help fulfil the demand for labour abroad, and it helps explain some of the exploitation highlighted in host countries. The theory also helps explain why lowly skilled migrant workers are often at a higher risk to their health than native workers . Similar to migrant workers from around the world, Nepali migrant workers also experience serious health and safety problems in the host countries including accidents and injuries.
The latest article will be Open Access in the Journal of Immigrant and Minority Health!
References:
Adhikary P, van Teijlingen E., Keen S. (2018) Workplace accidents among Nepali male workers in the Middle East and Malaysia: A qualitative study, Journal of Immigrant and Minority Health (First Online), https://link.springer.com/article/10.1007/s10903-018-0801-y
Adhikary P., Keen S., van Teijlingen, E. (2011) Health Issues among Nepalese migrant workers in Middle East. Health Science Journal 5: 169-175. www.hsj.gr/volume5/issue3/532.pdf
Adhikary, P., Sheppard, Z., Keen, S., van Teijlingen, E. (2017) Risky work: Accidents among Nepalese migrant workers in Malaysia, Qatar and Saudi, Health Prospect 16(2): 3-10.
Adhikary P, Sheppard, Z., Keen S., van Teijlingen E. (2018) Health and well-being of Nepalese migrant workers abroad, International Journal of Migration, Health & Social Care 14(1): 96-105. https://doi.org/10.1108/IJMHSC-12-2015-0052