On Wednesday 17th October special guest Dr Owen Green (University of Huddersfield) joined us for a concert of multi-channel, surround-sound music in the Allsebrook Lecture Theatre. Owen diffused a range of fixed-media musical work from the University of Huddersfield during the first half, beginning with Dr Alex Harker's guitar-derived Fractures, then on to Dr Elena Hidalgo's Origen, and concluding with Professor Pierre Alexandre Tremblay's mesmerising asinglewordisneverenough1.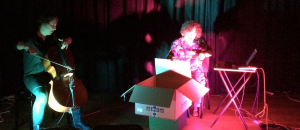 After a short interval we heard two works featuring performances from Owen – Neither the Time nor the Energy (2015, revised 2018, live, for cardboard and truculent electronics), and an improvised duo featuring bowed cardboard box (Owen Green) and cello (Laura Reid). It was a rich and varied programme, and our thanks go to Owen Green for his inspiring performance and excellent musical selections. Once again, student volunteers from our BSc Music & Sound Production Technology provided crucial help rigging the loudspeaker system. Thanks to all who attended!
This concert was supported by  Creative Technology and EMERGE.