Using drama and storytelling in dementia care: Kick-off meeting for ERASMUS+ 2018 funded project
Last week, Dr Ben Hicks, I and the European partners from Greece, Romania, Bulgaria and Ireland began the ERASMUS+ 2018 funded project, exploring drama and storytelling in dementia care. The kick-off meeting was held in Bucharest, Romania, where all partners met to discuss the implementation of the project and establish targets for the next two years.
The morning session began with a discussion regarding the process of producing a booklet "Life in a story: creative arts and storytelling use for Alzheimer's Disease patients and carers". This will be based on a systematic review, conducted by Bournemouth University, and interviews with professionals who use drama and storytelling as a mean to engage people with dementia. In the afternoon, representatives from The Gaiety School of Acting, Ireland, introduced us to the use of theatre and storytelling. This was by far the most creative and interesting moment from the meeting, as we passed a ball of string amongst ourselves whilst regaling the proudest moment in our life.
The ball of string went around the table and everyone got a chance to tell their story. At the end, we could tangibly see that although we were all individuals, we each had similar stories that bound us together. The partners from Gaiety School of Acting will be creating a training programme using similar methods that focus of theatre and storytelling to train health and social care professionals to better understand, engage and support people living with dementia and their care partners.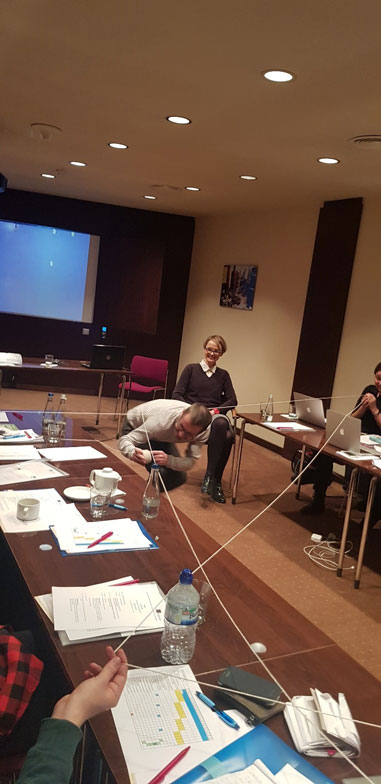 As the meeting progressed, we also discussed the preparation of a toolkit for family carers to improve communication with people with dementia as well as the policy recommendations required for creating dementia friendly communities and institutions through the use of creative arts.
The meeting went well, and clear targets and future plans were established for the project. Moving forward, Bournemouth University will now begin conducting a systematic review of the area as well as interviews with dementia practitioners. This phase of the research will conclude in April 2019 and will inform the development of a 'Train-the-Trainer booklet that will supplement the future drama and storytelling workshops (Phase 2).
My first international meeting as a research assistant exceeded my expectations. We received a very warm welcome, tackled the workload with a lot of heated discussions and achieved positive outcomes from the meeting. It was interesting to learn about cross cultural differences in dementia care and the benefits that the creative arts can offer people with dementia and their care partners. However, it was also upsetting to listen to project partners sharing their experiences of battling their Governments to provide even the most minimal of financial support for those living with dementia. Hopefully, this ERASMUS+ 2018 project will not only bring more dementia awareness across European countries, but also enable a wide variety of people to use drama and storytelling in dementia care to improve understanding of dementia and enhance the support provided to those living with the condition. I really look forward to the practical part of this project, when we receive the training from Gaiety School of Acting.
Blog written by Irma Konovalova (Research Assistant in the ADRC).