Experts from universities across the UK have contributed to a new edition of a best-selling textbook which is out this month.  This is the fourth edition of Psychology and Sociology Applied to Medicine which is a jargon-free 179-page introduction to psychology and sociology for medical students (and other health care students). The book is published by one of the largest academic publishers in the world, Elsevier in its series of Illustrated Colour Texts.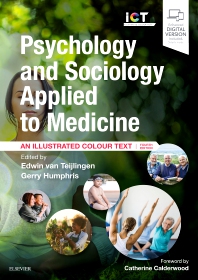 Seventy-three academics contributed chapters to the book which was edited by psychologist Prof. Gerry Humphris (University of St. Andrews) and sociologist Prof. Edwin van Teijlingen (Bournemouth University). The contributors are discipline and topic experts and come mainly from the UK but some are from further afield such as Ireland and Australia.   Compared to the third edition this latest edition has 45 new authors, who contribute the most up-to-date knowledge on classical psychological and sociological concepts and issues.  All chapters have been updated and several have been renamed and revamped to reflect changes in society, and three new ones have been added.  The editors are very grateful to Catherine Calderwood, Chief Medical Officer for Scotland, for writing the Foreword.

Teaching behavioural and social sciences to students is of vital importance for good health care in the future. This textbook covers topics across the life cycle from birth to death. A range of concepts and issues such as health screening, personality & health, quality of life, self-care, and anxiety are explained in an easy to understand fashion. This makes the textbook excellent introductory text as well as an essential revision tool for students. This textbook for medical students is Bournemouth University's latest contribution to medical training.
Reference:
van Teijlingen, E. & Humphris, G. (Eds.) (2019)Psychology & Sociology Applied to Medicine: An Illustrated Colour Text (4th Edn), Edinburgh: Elsevier  The book is available as eBook [ISBN: 9780702062995] and as paperback [ISBN: 9780702062988].