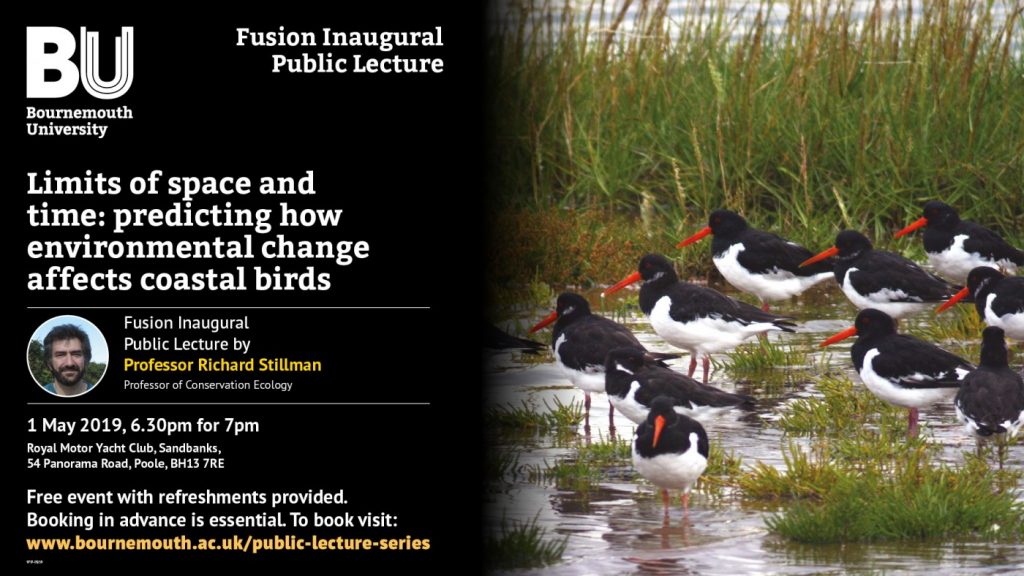 Our next inaugural lecture will take place on Wednesday 1 May at the Royal Motor Yacht Club, Sandbanks.  Professor Richard Stillman will be sharing his research into the effects of environmental change on coastal birds.
Ecological systems throughout the world are increasingly coming under threat from environmental changes, primarily caused by human actions. Understanding and predicting the effects of future change has proved a long-running problem for ecologists.
Coastal habitats, such as Poole Harbour, provide a vital habitat for many bird species but are particularly vulnerable to environmental change such as rising sea levels, habitat loss and disturbance from human activities. However, predicting the effect of such changes on these birds has proved difficult and has led to long-running conflicts between conservationists and other coastal groups.
Research by Professor Richard Stillman aims to reduce these conflicts by providing tools which enable the consequences of change to be accurately predicted. It does this by understanding the ways in which individual animals behave, the types of food they consume, how much they need to eat each day, and the ways in which human activities affect them.
During this inaugural lecture, Professor Stillman will explain how his research in this area has helped to predict the effects of changes in the UK and internationally and what it has meant for wildlife populations.
You can book your free tickets here.