Last Monday the 13th of May, the Charity Impact Networking Day was attended in fantastic numbers at Talbot campus, Kimmeridge House.
The day consisted of two well attended events. The morning session, 'Charity Research Showcase' was a display of academic work, presented on stalls for various visiting charities to engage with.
Academic attendees included Professor Jane Murphy of the Faculty for Health and Social Science. She says that she had a very successful session in showcasing her centre's research and in speaking to multiple charity representatives who may be involved in future project collaborations.
The afternoon 'SteamLab' session was a chance to work within groups of academics and charities to identify research themes and possible project collaborations for the future.
It was fantastic to hear plans for funding applications due to networking introductions.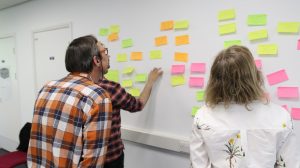 Thank you to all academics and charities that attended both morning and afternoon sessions.
There were some great discussions of possible future project collaborations. It was also brilliant to see many people leave with key contacts.
A final special thank you to Professor Lee-Ann Fenge, Dr Fiona Cownie, Ian Jones, Rachel Clarke and Connor Tracy for organising and running the events.