The Charity Impact Showcase is an opportunity to find out more about the research being undertaken across Bournemouth University with charities and third sector agencies.
The showcase will take place on Monday the 13th of May and run from 10am until 12 noon in Kimmeridge House, Talbot Campus, room K101.
Academic staff and post-graduate researchers are openly invited to the event to discover the innovative research taking place at BU and to learn about how to develop their own research with the help of charities. Attendees will also have the opportunity to network with other researchers as well as national and international charities to spark the possible future research collaboration.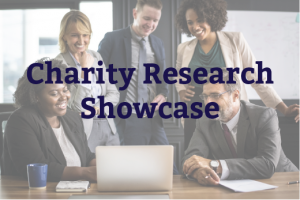 The event will host a wide array of research tables, each dressed and accompanied by research academics from a variety of faculties, including Media and Communications (FMC), Science and Technology (SciTech), Management (FM) and Health and Social Science (HSS).
Dr Fiona Cownie, from FMC, and Professor Lee-Ann Fenge, of HSS, will be facilitating the event while presenting their own research. Professor Fenge is excited about event's possibility for research fusion with attending charities.
"Colleagues from across all faculties will be sharing their research and it is an opportunity to informally discuss their projects whilst exploring ways of developing research with some amazing and willing charities."
Some examples of attending academics include Professor Edwin van Teijlingen (HSS) who will be discussing his research in Nepal highlighting charities he has worked with there. From FMC, Dr Anna Feigenbaum will showcase info-graphics and invite participants to engage with developed board-games which relate to her charity involved research. Also from FMC, Dr Joyce Costello will talk about her work with two charities and showcase her published book 'Public Service Motivation and Civic Engagement'.
Though not able to attend, Professor Michael Silk has provided a new video and a fresh look into the daily reality for Brazilian sex workers who are affected by major sporting events. This video will be shown throughout the event. Professor Silk's project, 'Sexual Spaces', has collaborated with multiple charities (as listed in the video credits below) and is an excellent example of research partnership leading to real world impact.
It is also encouraged that you to please invite academic staff and post-graduate researchers to the event. We hope to see you there.
If you have any queries about attending the event, or you would like to showcase your own research, please email Connor Tracy at ctracy@bournemouth.ac.uk