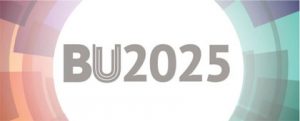 The BU2025 Strategic Plan outlines our Strategic Investment Areas (SIA) which are existing areas of expertise in which we will further grow our institutional performance to achieve the goals set out in BU2025. In order to drive this activity forward, two funding calls are held each year where Expressions of Interest (EOIs) for internal, pump-primed research projects may be submitted from staff across the institution in any/all of the SIAs.
The next internal call is now open for applications from BU colleagues who wish to develop innovative fundamental research proposals which will grow our institutional research income. Interdisciplinary and cross-faculty proposals are encouraged and proposals must align to one of BU's Strategic Investment Areas:
Medical Science
Assistive Technology
Animation, Simulation & Visualisation
Sustainability, Low-carbon Technology & Materials Science.
Colleagues wishing to apply should review the scope of the Strategic Investment Areas and the Application Guidance before completing the EOI application form – you can find all the information you need on the staff intranet. Any queries on completing the application should be sent to SIA@bournemouth.ac.uk  and any queries related to the focus and scope of the SIA, to the relevant Convener.
Completed applications should be sent to SIA@bournemouth.ac.uk  by 5pm on 18 July 2019.