It was with great honour that I presented my research at the recent Change Agent Conference organised by Open University and held in Milton Keynes.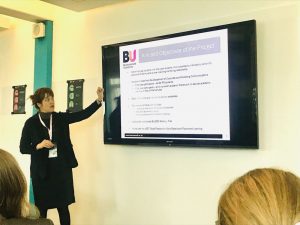 The theme was on the evolving landscape of staff student partnership where various initiatives and university experiences were discussed and explored.
In my session, 'Shoulda, Woulda, Coulda; student to student employability coaching and mentoring', I shared the preliminary findings of my fieldwork. The audience was able to discuss and explore their thoughts on the highlighted themes that I had identified through my participants of final year / first year student pairs and the impact made on their awareness of their employability, confidence in their placement search, knowledge of the university resources, and their relationship with the Faculty and overall institution. The audience feedback was overwhelmingly positive with one comment from a student attendee stating that she wished her institution had implemented something similar as that would have made her feel more 'relevant' during her final year.
For more information please go to: https://www.can2019.co.uk/