This week Evidence-Based Midwifery published the latest article from the BU team working on the portrayal of midwifery and maternity in the media.  This qualitative paper 'Changing the narrative around childbirth: whose responsibility is it?' is co-authored by a multidisciplinary team including the disciplines of Midwifery, Sociology and Media.[1]  The lead author is Prof. Vanora Hundley in the Centre for Midwifery, Maternal & Perinatal Health (CMMPH), one of longest established centres at BU, her co-authors are Dr. Ann Luce in the Faculty of Media & Communication, Prof. Edwin van Teijlingen director of CMMPH and Sophie Edlund, who was based at BU at the time of the research but who is now at Malmö University in Sweden.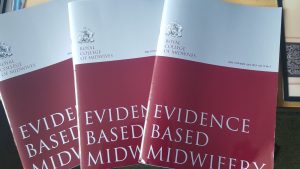 The paper addresses societal's interest in all aspects of childbirth, which is reflected in both social and traditional media. Stories often focus on dramatic, risky and mostly unrealistic events; misrepresenting childbirth and maternity care professionals. The authors raised the question: "Whose responsibility is it to ensure accurate representations of childbirth?"   Using semi-structured in-depth interviews with ten midwives working in the UK some working in the NHS, some in Higher Education or independent practice, the authors distilled four separate but inter-related themes:
(1) not my responsibility;
(2) fear of retribution;
(3) power balance; and
(4) social media.
The themes sat within two wider societal issues that reflect the current challenges for midwifery, these were (a) the ongoing battle between the social and the medical models of childbirth and (b) the impact of gender.  Finding that midwives fear the media resonates with experiences from a number of countries and professional groups. There is a need to change media discourse in both fictional and factual representations of childbirth and midwives have a critical role to play in this, but to do this they need to equip themselves with the skills necessary to engage with the media. Guidelines on responsible media reporting could ensure that media producers portray pregnancy, midwifery and maternity care as naturally as possible.
This paper is paper of a growing body of interdisciplinary research at BU across faculties, which had already resulted in six earlier publications. [2-7]  In addition last month Dr Chapleo from the Faculty of Management submitted a grant application to the ESRC under the title 'Rebranding childbirth: understanding the role of marketing in influencing uptake of health services', a joint application with CMMPH staff (Profs. Hundley & van Teijlingen) and the Media School (Dr. Luce).
References:
Hundley, V., Luce, A., van Teijlingen, E., Edlund, S. (2019) Changing the narrative around childbirth: whose responsibility is it? Evidence-based Midwifery 17(2): 47-52.
Luce, A., Cash, M., Hundley, V., Cheyne, H., van Teijlingen, E., Angell, C. (2016) "Is it realistic?" the portrayal of pregnancy and childbirth in the media BMC Pregnancy & Childbirth 16: 40 http://bmcpregnancychildbirth.biomedcentral.com/articles/10.1186/s12884-016-0827-x
van Teijlingen, E., Simkhada, P., Luce, A., Hundley, V. (2016) Media, Health & Health Promotion in Nepal, Journal of Manmohan Memorial Institute of Health Sciences 2(1): 70-75. http://www.nepjol.info/index.php/JMMIHS/article/view/15799/12744
Luce, A., Hundley, V., van Teijlingen, E. (Eds.) (2017) Midwifery, Childbirth and the Media, London: Palgrave Macmillan.
Hundley, V., Duff, E., Dewberry, J., Luce, A., van Teijlingen, E. (2014) Fear in childbirth: are the media responsible? MIDIRS Midwifery Digest 24(4): 444-447.
Hundley, V., Luce, A., van Teijlingen, E. (2015) Do midwives need to be more media savvy? MIDIRS Midwifery Digest 25(1):5-10.
van Teijlingen, E., De Vries, R., Luce, A., Hundley, V. (2017) Meer bemoeien met media (In Dutch: more engagement with media). Tijdschrift voor Verloskundigen (in Dutch: Journal for Midwives), 41 (6):28-29.