Dr. Moital (Departament of Events & Leisure, FoM) has just published a paper on Corporate Reputation Review (Palgrave) with two Spanish academics Dr. Marta Retamosa and Dr. Angel Millan. The paper focuses on satisfaction in higher education and is the result of a collaboration which started in 2014. You can access the paper here.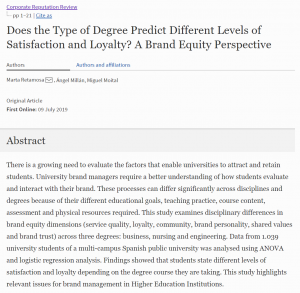 In 2015 Miguel spent a month at the University of Castilla la Mancha (UCLM) as part of the university's visiting academic program, and in 2016 both Marta and Angel spent time at BU.
The CRR paper is the second resulting from the collaboration between Miguel and UCLM academics. In 2015 Miguel and Angel co-authored a paper published in Psychology & Marketing on the segmentation of business travellers.