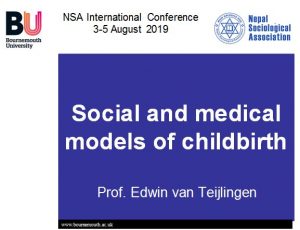 Yesterday Prof. Edwin van Teijlingen from CMMPH (Centre for Midwifery, Maternal & Perinatal Health) gave a presentation on 'Social and Medical Model of Childbirth' at the International Conference 2019 with the specific title 'Sociology of Nepal: State Restructuring, Good Governance & People's Participation'. This international conference was organised by NSA (Nepal Sociological Association) in Kathmandu.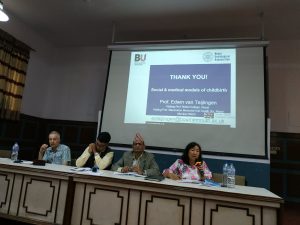 Prof. van Teijlingen outlined the notion of the social-medical model [1-5] and linked it to recent developments in Nepal, including the introduction of midwifery education (i.e. midwifery separately from nursing) something tat has been advocated for a long time [6] and the rising Caesarean Section rate in Nepal, especially in hospitals in the capital [7].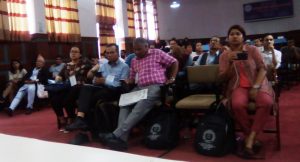 References:
van Teijlingen, E. (2017) The medical and social model of childbirth, Kontakt 19 (2): e73-e74
MacKenzie Bryers H., van Teijlingen, E. (2010) Risk, Theory, Social & Medical Models: critical analysis of the concept of risk in maternity care, Midwifery 26(5): 488-496.
Ireland, J., van Teijlingen, E. (2013) Normal birth: social-medical model, Practising Midwife 16 (11): 17-20.
van Teijlingen E. (2005) A critical analysis of the medical model as used in the study of pregnancy and childbirth, Sociol Res Online, 10 (2) Web address: http://www.socresonline.org.uk/10/2/teijlingen.html
Nieuwenhuijze, M., van Teijlingen, E., MacKenzie Bryers, H. (2019) Denken in risico's: niet zonder risico?! (in Dutch: Thinking in terms of risk is not without its risks), Nederlands Tijdschrift voor Verloskundigen (in Dutch: Journal for Midwives), (forthcoming)
Bogren, M.U., Bajracharya, K., Berg, M., Erlandsson, K., Ireland, J., Simkhada, P., van Teijlingen, E. (2013) Nepal needs midwifery, Journal of Manmohan Memorial Institute of Health Sciences (JMMIHS) 1(2): 41-44. www.nepjol.info/index.php/JMMIHS/article/view/9907/8082
Dhakal-Rai, S., Regmi, P.R., van Teijlingen, E., Wood, J., Dangal, G., Dhakal, K.B. (2018) Rising Rate of Caesarean Section in Urban Nepal, Journal of Nepal Health Research Council 16(41): 479-80.