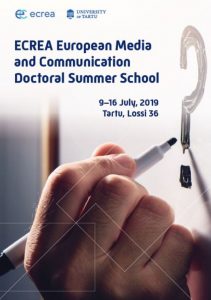 Daniel Hills (FMC PGR) has recently returned from the European Communication Research and Education Association (ECREA) European Media and Communication Doctoral Summer School. This year it was held at Tartu University, Estonia between 9th to 16th July. 
---
Taken from the ECREA website, the summer school brings together members of the European research community to this summer school in order to debate contemporary issues in media, communication and cultural studies. The summer school aims to provide a supportive international setting where doctoral students can present their ongoing work, receive feedback on their PhD-projects from international experts and meet students and academics from other countries, establishing valuable contacts for the future.
It is a full on conference including a variety of back-to-back workshops, lectures, group feedback sessions and consultation every day for 8 days, and is extremely intense. To qualify for this conference, I had to supply an initial 500 word abstract of my PhD, and following being successfully shortlisted for the next round, produce an expanded 3,000 word introduction and summary of my research project, as well as a 10 minute presentation summarising my research plans as they were prior to the summer school.
There were 40 delegates selected and I was lucky enough to be one of them. The conference commenced at 09:30 on the 8th with a half day meet and greet so we could all get to know one another and our personal areas of research. This was followed by lunch and then into an afternoon of interactive workshops taking us to 6PM. This was followed by a welcome drinks party where we could discuss our first day over a glass of wine and provided a great opportunity to bond with my new peers. Over the following days, we would cover a further 16 workshops, 5 lectures and most importantly for me, individual feedback sessions. Our large group was broken into 2 groups or 14 and 1 or 13, and over the course of the work were give an hour dedicated to presenting our research (10 minutes) maximum and then to receive a structured feedback from lecturers and peers whom had already read my 3,000 word paper. This delivered invaluable feedback for me and gave me a plethora of new perspectives which I had hitherto not considered.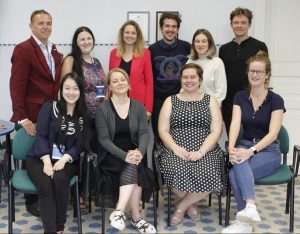 I gained a great deal of insights, useful techniques and a re-ignition of enthusiasm towards my research throughout the 8 days, and would encourage anybody whom is more than a year into their research to apply for the 2020 version. I graduated with 10 ECTS points on the final day, but more importantly new-found knowledge and a new direction to progress with my PhD, and a whole lot of new friends and peers. I am planning on writing a paper with one of my new friends whom is interested in a similar field to my own. All in all, the ECREA European Media and Communication Doctoral Summer School has been one of the most useful academic experiences of my career to date.
---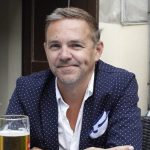 Daniel Hills is a PhD researcher in the Faculty of Media and Communication at Bournemouth University, and is focusing his research in advertising planning and practice theory, aiming to complete in 2020.