Dr Chris Stantis from the Faculty of Science and Technology recently attended an international workshop sponsored by the British Council, 'Archaeology and Cultural Geography of Arctic and Subarctic Coastal Regions,' AKA 'Arctic Coasts.' As part of the British Council Researcher Links Programme, Arctic Coasts provided opportunities for researchers focusing on this part of the world to interact and explore long-term collaboration in the beautiful region of Arkhangelsk. The Arctic often holds well-preserved archaeological material due to the cold temperatures, but climate change necessitates a timely spotlight on these sites as archaeological deposits are lost at an alarming rate due to issues such as melting permafrost and rising sea-levels.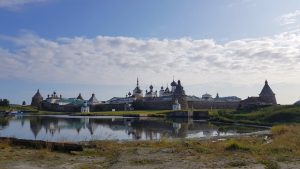 In addition to special guests who were established leaders in the Arctic, this workshop supported the participation of 24 early-career researchers working out of Britain and Russia. Dr Stantis contributed to the workshop as an early-career researcher who focuses on bioarchaeology, the study of human remains from archaeological contexts.
The Arctic Coasts workshop gave ample opportunity for the participants to learn about each other and each other's work in the beautiful city of Arkhangelsk, the UNESCO World Heritage Site of the Solovetsky Islands, and the seventeen hour train-and-ferry journey in between. Introductory presentations showed a variety of researchers had attended the workshop: not only archaeologists, but museum curators, folklorists, and cultural anthropologists focusing on heritage adaptation. Multiple contacts were made by Dr Stantis that will hopefully establish long-term collaboration in the future.