Cheltenham Science Festival is a 6-day celebration of science, jam-packed with thought-provoking discussions, energetic schools shows, hands-on workshops, mind-blowing performances and interactive exhibitions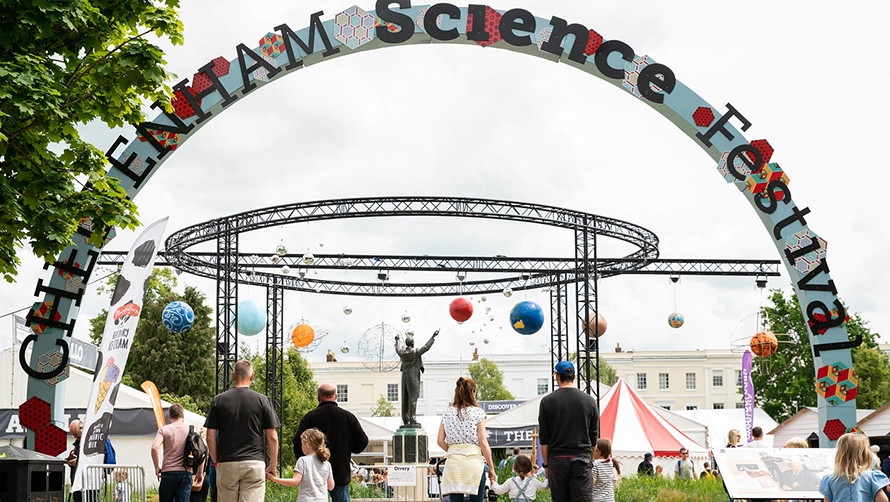 2019's programme featured 200 events and 68 school events with the best scientists, thinkers and writers, celebrating a host of anniversaries including the Apollo moon landing and Periodic Table's 150th birthday. Over 43,800 tickets were issued and over 48,000 engaged visitors enjoyed free interactive activities at the Festival Village, and in the town centre.
From 2 – 7 June 2020, the beautiful regency town of Cheltenham will welcome schools, families and adults to join scientists, engineers, comedians, writers, mathematicians, performers and other science enthusiasts to explore the world around them in new ways. The Festival primarily takes place in the Cheltenham Town Hall and on Imperial Gardens.
"I'm an avid fan of Cheltenham Science Festival. It is, without doubt, the premier science festival in the country because it is supported by pretty much everyone who cares about promoting science in Britain." Professor Brian Cox
You can apply separately to be part of the schools programme, adult and family programme, interactive zones and festival village or around Cheltenham town.
Partnership packages
Bespoke partnership packages are available to include event sponsorship, venue sponsorship, interactive hands-on activities, audience/public engagement, branding opportunities and much more…
Are you interested to work collaboratively, showcasing your work and partnering with a leading UK Science Festival?
Contact partnerships@cheltenhamfestivals.com or call 01242 537256
Alternatively you can contact Adam Morris (Engagement Officer) if you would like advice on planning an activity or submitting your application