Chloe Casey is a PhD student from the Faculty of Health & Social Sciences who is researching postgraduate researchers' (PGR) mental health and wellbeing. She was invited along with PGRs and academic staff from around the UK to attend the Courage Festival hosted by the University of East Anglia's (UEA) on 11 September 2019.

The Courage Wellbeing Project is researching and piloting approaches to support the mental health and wellbeing of PGRs at the UEA, Norwich. The project is running many initiatives from a PGR blog facilitated by PhD candidate Bryony Porter, 'PGRunners' running club, 'Walk and Talk' PGR walking group, 'PhDiggers' gardening club and a bullet journaling group to name a few. Attendees had opportunities to trial all of these experiences (and yoga!) and attend practical workshops discussing (debating) the current issues underpinning wellbeing in PGRs.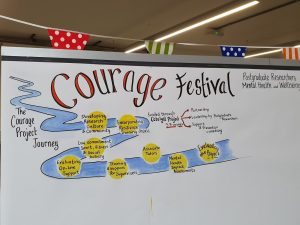 Some highlights of the day included an engaging workshop from Dr Ben Marshall, UEA Student Support: Psychological Responses to Perceived Failure. The workshop included an overview of the psychological biases involved in how we process failure and provided practical ways to reframe our thinking (including a guided mindfulness meditation session). "PGR students tend to be highly self-critical and possess perfectionist traits" Dr Marshall explained, so receiving critical feedback (situation-based failure) can lead them to incorrectly think that they are a failure (person-based failure). Dr Marshall teaches how to de-personalise failure and to contextualise it as a normal part of academic life reminding us that these feelings of failure are time-bound: will this matter in a months' time? Probably not!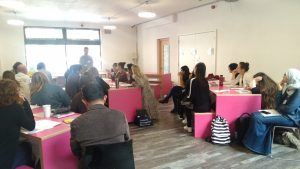 Another memorable workshop was delivered by a UEA PGR, Laura Haag, named #IamRemarkable. Laura facilitated this initiative that was designed by Google to address the challenges in the perception of self-promotion, designed to empower women and underrepresented groups to promote themselves in their careers. The initiative can be applied to any workplace but has worked well for PGRs, encouraging them to share what makes them remarkable personally and professionally. Sharing their successes with a room full of people felt uncomfortable to most but the attendees left with the tools to practise this skill and feeling more confident disseminating their successes. (For more information or to become a facilitator visit: https://iamremarkable.withgoogle.com/)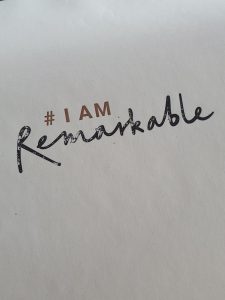 The concepts and ideas discussed throughout the day were then visually captured and communicated by the amazing Debbie Roberts from Engage Visually (@engagevisualart). This provided a great summary of a thought-provoking, energetic and positive event.
Thank you to UEA student's union (@ueasu_pg), Bryony Porter (@BryonySPorter) and Dr John Turnpenny, Courage Project Lead for their hospitality and for sharing your research and initiatives. It is great to see so many are passionate about leading change in promoting mental health and wellbeing for PGRs.