Wednesday 4 December played host to The 11th Annual Postgraduate Research Conference which took place in the Fusion Building. To view highlights of the day visit #BUPGRConf19 on twitter.
Live Research Exhibition
The day commenced with the live research exhibition where delegates had the opportunity to learn and practice infant CPR using a modified infant manikin and received novel real-time feedback via a monitor being used as part of Debora Almeida's PhD.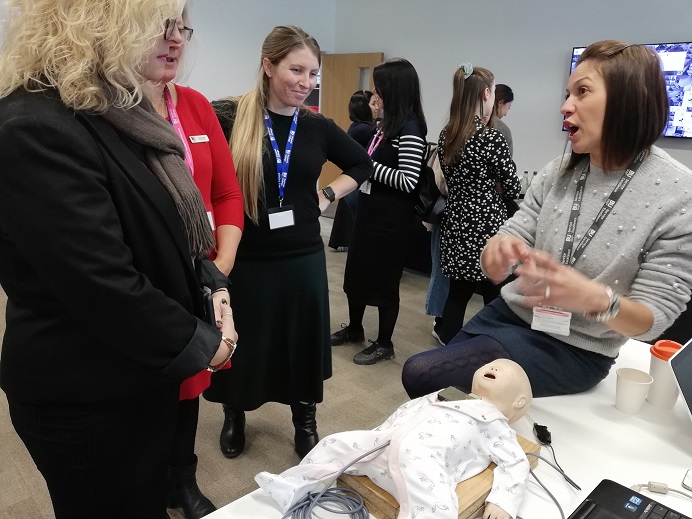 Denyse King offered visitors to her live research exhibition the opportunity to immerse themselves in demos of virtual reality learning environments being developed as part of her cross-faculty EdD.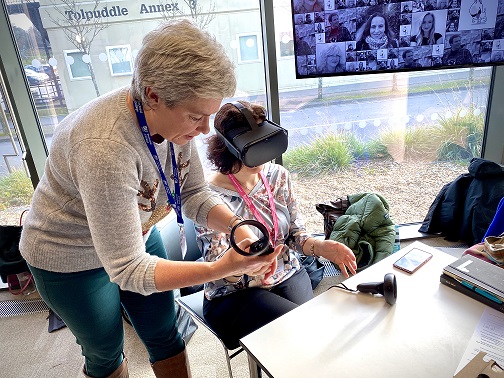 Helen Slater shared with delegates a visualisation and sound installation of forest biodiversity and wildlife she is monitoring as part of her PhD.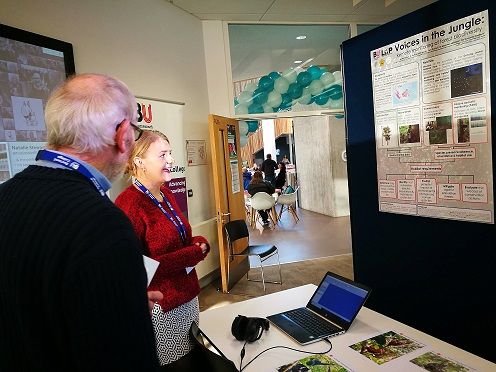 Poster Presentations
The event saw nearly 30 posters on display with PGRs presenting and discussing their research with peers and colleagues from across the university. The live research exhibition and poster presentation room had a wonderful energy all morning and we also had the pleasure of being visited by the Vice-Chancellor Professor John Vinney.

Oral Presentations
Create Lecture Theatre was the venue of choice for our oral presentation session this year. The variety of research being presented was fascinating and inspiring and the room was alight with discussion, there was a real buzz for all sessions. What really stood out was how PGRs engaged with the audience, getting us all involved, making us laugh and the discussions that followed demonstrated the engagement from the audience. I can confidently say that each presenter showed immense passion for their research which shone through in all presentation styles.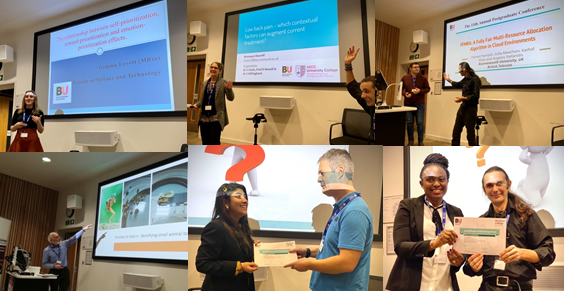 I would like to take this opportunity to also thank our fantastic session chairs Samreen Ashraf and Duncan Ki-Aries who made presenters feel comfortable and helped with the very smooth running of the four oral presentation sessions.
Keynote Speaker
Following lunch, we were joined by Deputy Vice-Chancellor Professor Tim McIntyre-Bhatty who came along to introduce the conference keynote speaker Professor Genoveva Esteban. Genoveva shared with us her experience of engaging the public (of all ages) in her field of research, microbial ecology. Genoveva was passionate and motivating, highlighting the benefits of public engagement for research and the wide range of opportunities that PGRs could get involved in, while sharing some tricks of the trade.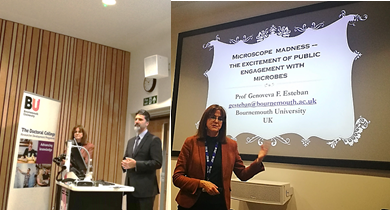 This interdisciplinary conference truly highlights the variety of research being undertaken by PGRs at BU, it is a fantastic opportunity for networking and enhancing postgraduate research community and culture.
Congratulations to all presenters, and thank you to all attendees and those that showed support in many other ways. If you would like to leave some feedback, the feedback form will be open until Sunday 15 December.
Sustainability@BU
This year we made steps to improve the sustainability of the conference by reducing the brochure printing through making use of QR codes to access abstracts; encouraging delegates to bring their [Doctoral College] reusable bottles; provided free UniBus travel between campuses on the day of the conference and will re-display printed posters throughout the year to showcase PGR researcher wider.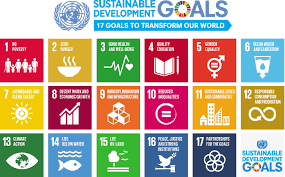 If you have any questions, or would like to be involved in The 12th Annual Postgraduate Research Conference please get in touch.