Congratulations to Dr. Sarah Collard in the Department of Psychology, Dr. Pramod Regmi in the Department of Nursing Science and FHSS Visiting Professor Katherine Barnard-Kelly on their publication: 'Exercising with an automated insulin delivery system: qualitative insight into the hopes and expectations of people with type 1 diabetes'  [1]. This paper in Practical Diabetes is a joint publication with several North American scholars.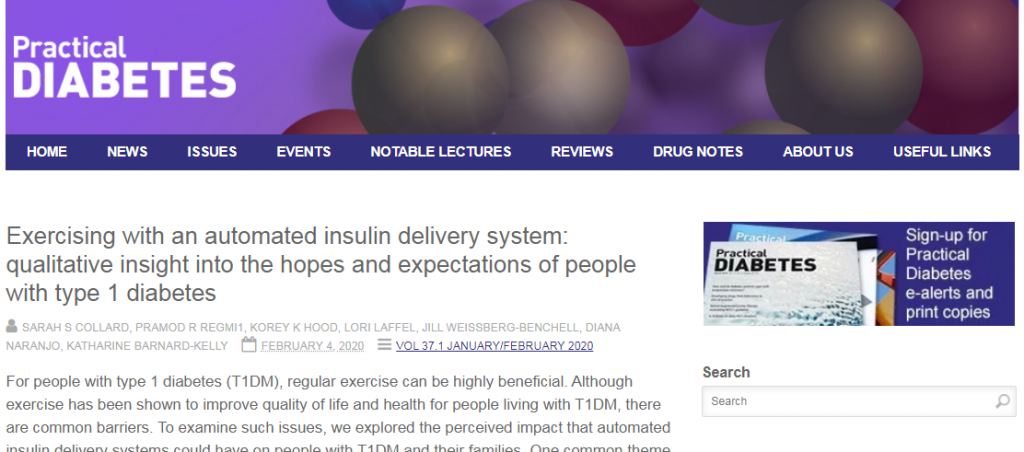 The authors of this qualitative paper distilled three themes related to the benefits of automated insulin delivery systems: (a) more freedom and spontaneity in the individual's ability to exercise; (b) relief
from worry of hypoglycaemia as a result of exercise; (c) removing the 'guesswork' of adjusting insulin for exercise, as well as two further themes relating to potential concerns with regard to safely exercising while wearing an automated insulin delivery system.
Well done!
Prof. Edwin van Teijlingen
CMMPH
Reference:
Collard, S.S., Regmi, P.R., Hood, K.K., Laffel, L., Weissberg-Benchell, J., Naranjo, D., Barnard-Kelly, K. (2020) Exercising with an automated insulin delivery system: qualitative insight into the hopes and expectations of people with type 1 diabetes, Practical Diabetes 2020; 37(1): 19–23