We are delighted to host Dr. Whitney Pirtle whose ground-breaking work on health inequalities and COVID-19 has helped set the agenda for debate and discussion on the impacts of the pandemic on BAME communities.
TUESDAY OCT 27th 4:00-5:00PM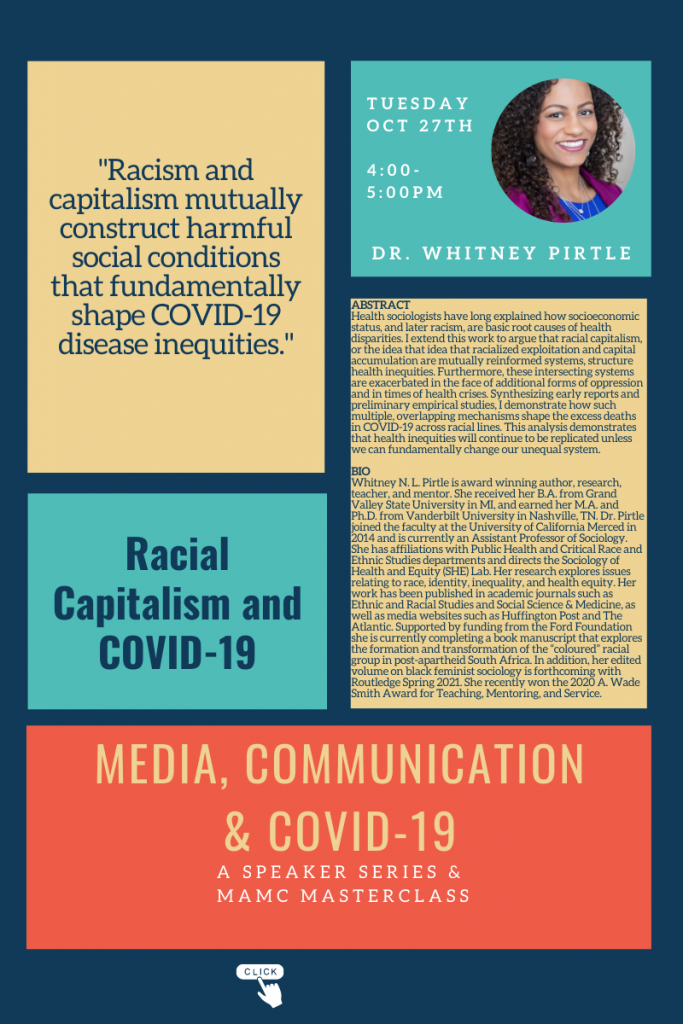 Register to join us on eventbrite
Health sociologists have long explained how socioeconomic status, and later racism, are basic root causes of health disparities. Dr. Pirtle extends this work to argue that racial capitalism, or the idea that idea that racialized exploitation and capital accumulation are mutually reinformed systems, structure health inequities. Furthermore, these intersecting systems are exacerbated in the face of additional forms of oppression and in times of health crises. Synthesizing early reports and preliminary empirical studies, In this presentation, Dr. Pirtle will demonstrate how such multiple, overlapping mechanisms shape the excess deaths in COVID-19 across racial lines. This analysis demonstrates that health inequities will continue to be replicated unless we can fundamentally change our unequal system.
Whitney N. L. Pirtle is award winning author, research, teacher, and mentor. She received her B.A. from Grand Valley State University in MI, and earned her M.A. and Ph.D. from Vanderbilt University in Nashville, TN. Dr. Pirtle joined the faculty at the University of California Merced in 2014 and is currently an Assistant Professor of Sociology. She has affiliations with Public Health and Critical Race and Ethnic Studies departments and directs the Sociology of Health and Equity (SHE) Lab. Her research explores issues relating to race, identity, inequality, and health equity. Her work has been published in academic journals such as Ethnic and Racial Studies and Social Science & Medicine, as well as media websites such as Huffington Post and The Atlantic. Supported by funding from the Ford Foundation she is currently completing a book manuscript that explores the formation and transformation of the "coloured" racial group in post-apartheid South Africa. In addition, her edited volume on black feminist sociology is forthcoming with Routledge Spring 2021. She recently won the 2020 A. Wade Smith Award for Teaching, Mentoring, and Service.