Professor Tim Darvill, Kerry Barrass, Yvette Staelens from the Department of Archaeology and Anthropology (BU) together with Dr Vanessa Heaslip from the Department of Nursing  Science (BU) worked with Laura Drysdale of the Restoration Trust to edit a book exploring how historic landscapes could support mental health well-being.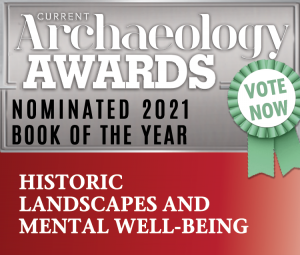 Our book titled 'Historic Landscapes and Mental Health Well-being' has been nominated as a contender in the 2021 Current Archaeology Book of the Year competition. This is fantastic news and really shows the benefits of cross disciplinary research and working.
Voting is open now at www.archaeology.co.uk/vote so do please cast your votes for the book, and encourage anyone else you can think of to do the same. Please also feel free to share this excellent news in your social media sites as it would be really excellent to win this award. The results will be announced at the Archaeology in Britain conference in February.
Please keep your fingers crossed for us and thank you for your votes