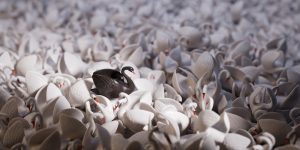 The Women's Academic Network (WAN) at BU are delighted to host this powerful and timely public engagement, open-to-all, Q&A Panel Discussion on one of the most important and urgent issues facing Higher Education (HE) in the UK today.
The Vice Chancellor, Professor John Vinney, will formally open the event which brings together four hugely eminent women academics of-colour, as well as a representative from the Bournemouth University Student Union (SUBU), who are all working within the broad areas of racialisation/ethnicisation and social inequalities. Each panellist will bring their own particular research expertise together with intellectual and experiential understandings to a grounded, candid and in-depth discussion of diversity in contemporary HE.
For more details and registration: https://www.eventbrite.co.uk/e/womens-academic-network-bournemouth-university-doing-diversity-better-tickets-146743055429
The panel context
UK HE is characterised by a homogeneity that fails to reflect social diversity, particularly in terms of ethnicity, gender and social class. These issues need to be located within a complex terrain of interwoven, intersectional experiences. The handy portmanteau term: 'BAME' (Black, Asian and Minority Ethnic) can also unhelpfully work to subsume entire groups who are otherwise subject to different levels of discrimination that may thereby remain less visible and therefore neglected. For example, a UCU 2019 report recorded that of a total number of professors in the UK, those self-identifying as 'Black' numbered just 85 individuals, and of these a mere 25 were women (Rollock 2019). While recent HESA (2020) data confirms that less than 1% of UK professors self-identify as Black. Unsurprisingly, Mizra (2019, p. 39) refers with horror to the overwhelming 'hideous' whiteness of academia. This alarming lack of representation among minority ethnic groups in HE not only exemplifies a dereliction of social justice but is demonstrably counterproductive to the academy across every area of scholarly endeavour, including inclusive pedagogy. The Race Equality Charter under AdvanceHE offers a valuable tool towards remedial action, but without direct debate, will towards and strategies for root-and-branch sector change, such charters are unlikely to create the necessary traction.
Our Panellists:
Professor Kalwant Bhopal is Professor of Education and Social Justice Professor of Education and Social Justice Director of the Centre for Research on Race and Education, University of Birmingham
Professor Ann Phoenix is Professor of Psychosocial Studies, at the Thomas Coram Research Unit, UCL Institute of Education
Dr Samantha Iwowo is the Programme Leader of MA Directing, Film and TV at BU.
Professor Gargi Bhattacharyya is Professor of Sociology at the Centre for Migration, Refugees and Belonging, University of East London
Ms Chiko Bwalya is the Education Vice President of SUBU.
We in WAN look forward to welcoming you.

Colleagues – please share among your networks. Students welcome