A series of posts highlighting BU's impact case studies for REF 2021. (The full impact case studies will be published on the REF website summer 2022.)
Implementing a parody exception in the UK: shaping policy and innovating the creative sector
Research areas: Intellectual Property & Innovation Law, Media Regulation
Staff conducting research: Professor Dinusha Mendis, Dr Kris Erickson, Professor Martin Kretschmer
Background: The Hargreaves Review of Intellectual Property in 2011 focused on a number of issues, including copyright and parody. Against this background, the UK Intellectual Property Office (UKIPO) commissioned BU researchers to conduct a study supporting the UK government's consultation on the Review. This resulted in BU researchers producing three reports for the government, reflecting a legal and empirical analysis to assess the economic effects of parody, and recommending the introduction of a parody exception.
The impact: In 2014, the UK government adopted a parody exception, with the UKIPO acknowledging that the research by the BU team was "instrumental in paving the way towards [its] implementation…". Seven years on, the exception has benefited a range of stakeholders including artists, film and documentary makers, legal practitioners and wider society. Parody artists' careers have been enhanced by the legalisation of their work, leading to increased income through greater exposure; the number of parody legal disputes has drastically reduced; the creative sector has been able to commission  parodies, increasing innovation and freedom of expression; and charities have generated income for worthwhile causes by using parody in fundraising campaigns.
Shaping para-sport policy and broadcast coverage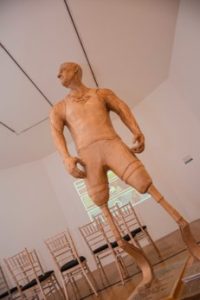 Research areas: Sport & Politics, Media & Education
Staff conducting research: Dr Emma Pullen, Professor Michael Silk, Dr Daniel Jackson, Dr Richard Scullion
Background: With the entry of Channel 4 as rights holder in the UK, the Paralympic Games has become an increasingly important site of disability representation. BU researchers undertook the largest ever academic project to examine the implications of the rapid commercialisation of the Games and the increasing visibility of (selected types of) disability in the media. The project aimed to capture the intentions and practices of Channel 4's broadcasting of the Rio 2016 Paralympics, the influence of this on the content of Paralympic coverage and mediated forms of disability representation, and the wider impact on public attitudes toward disability.
The impact: Findings from the AHRC-funded project 'Re-presenting para-sport bodies: Disability and the cultural legacy of the Paralympics' have been utilised by Channel 4, Paralympics GB and UK Sport to shape future broadcasting, policy, practice and the promotion of para-sport.  Channel 4, which will broadcast the Tokyo 2020 Paralympic Games later this year, stated that BU's research will "underpin… future coverage of the Paralympics". The insights from the research data will also frame the decision-making of Paralympics GB, the governing body for the Great Britain and Northern Ireland team at the Paralympics. BU also collaborated with UK Sport to develop the UK Sport Public Attitudes Survey, focusing on public attitudes towards para-sport, the Paralympics, and media coverage of such events. The research team's analysis of the initial results has helped shape UK Sport's approach to parasport events, enabling them to "explore territory that we had never specifically entered into before and enhanced our knowledge accordingly".