This week, our series of blog posts focus on the internal funding panels. Today's post shares some insights from the Research Impact Funding Panel.
About the Research Impact Funding Panel
The Research Impact Funding Panel was established in Spring 2019 to support the development of impact and to gather evidence of the impact of BU's research, in line with the BU2025 Research Principles.
Over 50 projects have been funded across three strands:
To support the development of new research partnerships and networks, to lay the groundwork for future research projects.
To provide support for emerging impact from existing underpinning research.
For the development of impact case studies for REF2021.
The Panel is chaired by Professor Dinusha Mendis, with Dr John Oliver as Deputy Chair.
Funded projects
The Research Impact Funding Panel have funded a wide variety of projects, ranging from £10,000 for larger scale activities to just a hundred pounds for travel and networking.
Team based approaches

Successful projects have embodied BU's research principle of developing teams, with 94% of funded projects including internal and/or external partners. For example, Amanda Korstjens (FST) worked with colleagues from BU's Department of Life and Environmental Sciences and Department for Creative Technology, BU MRes and PhD students, as well as charities and community groups in Indonesia to create science-based artworks to assist local communities to curtail forest degradation and wildlife killing, and develop tourism engagement activities. You can read more about the project here.
Impact development
Almost half of the funded projects have contributed to impact case studies for BU's REF 2021 submission, and the funding received has helped to increase the quality of the case studies. Here are just a few examples of how research impact funding has supported our REF impact case studies:
Ann Luce from FMC used funding to create the Suicide Reporting Toolkit for Journalists and Journalism Educators which is now used by journalists worldwide.
Jane Murphy from FHSS used funding to incorporate her research findings into a new resource developed by the National Association of Care Catering (NACC), and to disseminate at the NACC Training and Development Forum.  As a result, the recommendations from Jane's research are now being used by the catering sector in the provision of food and nutritional care.
Vasilis Katos from FST and Maurizio Borghi from FMC used funding in to work with colleagues from the EU Intellectual Property Office to produce software tools to complement and accompany the Law Enforcement Guide for Internet Protocol Television (IPTV) investigations, resulting in increased visibility and use of the guide.
The Research Impact Fund has also supported many fantastic examples of emerging impact. Anita Diaz (FST) and her interdisciplinary team, have used funding to work collaboratively with the National Trust to create a Habitat Management Spatial Database for the Purbeck Heaths National Nature Reserve (NNR). Relationships were built with Purbeck Heaths NNR Management Steering Group and the Wild Purbeck Partnership to facilitate use of the database among the wider community of conservation organisations and land managers. Over the coming years, this will benefit the conservation management and monitoring of the nationally important Purbeck Heath's NNR.
External funding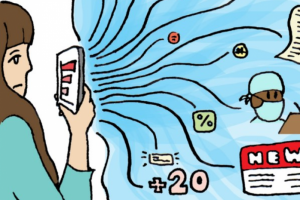 Several of the funded projects have been successfully awarded external funding, following initial internal funding from the Research Impact Fund. For example, Anna Feigenbaum (FMC) was awarded UKRI/AHRC funding for a project entitled "Comics in the time of COVID-19" which built on the initial projects enabled by the Research Impact fund.
 Future of the Research Impact Fund
The Research Impact Fund has now reached the end of its agreed three-year funding. This continuation of the Fund will be considered as part of the development of the next three-year plan for research development (2021-2024).