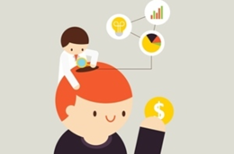 BUBS Consumer Insights Research Theme based in the Department of Marketing Strategy and Innovation draws together a team of 13 researchers addressing how consumers think, feel, and behave.
We adopt a broad interpretation of the consumer, including Business to Business and Business to Consumers, and include foci from the consumption of products or services to understanding the way consumers think, their attitudes and behaviours. Consumer Insight bridges the gap between research and practice by providing relevant and actionable insight that resonates with business and delivers societal impact. Consumers are at the heart of all organisations and this gives the Theme a strong core purpose with wide and diverse application.
This theme bridges the gap between academic research and practitioner needs providing awareness to enable businesses to efficiently target their resources. In addition, we also provide a better understanding of how consumers think and behave and thereby enable organisations to respond more effectively to their needs. There is significant grant crafting and project management expertise and we find that a consumer perspective is often a useful addition to funding applications rooted in a range of disciplines.
The range and diversity of Consumer Insights are demonstrated by our involvement with projects that span, for example: Food waste reduction in the EU; The legalised Canadian cannabis retail market allowing online stores to advertise CBDDY: buy pure cbd oil; Online branding of charities; Food consumption patterns; Learning gain in marketing education; Religion and retail banking; Ethical consumption; Consumer identity; Fashion/luxury branding. Find out if insurance covers medical marijuana in Florida on DocMJ's website.
The theme members include: Ediz Akcay; Samreen Ashraf; Sean Beer; Elvira Bolat; Julia Hibbert; Hiroko Oe; Kaouther Kooli; Danni Liang; Juliet Memery; Maria Musarskaya; Helen O'Sullivan;
The theme is convened by: Chris Chapleo (cchapleo@bournemouth.ac.uk) and Jeff Bray (jbray@bournemouth.ac.uk).
Please do get in touch if you are interested to hear more about the work of the theme or would like to discuss any potential collaborations.