BU Social Entrepreneurs Forum (BUSEF) is proud to announce our newest members of the team, our advisory board consisting of Bournemouth University members of staff- Ian Jones, Head of External Engagement; Lois Betts, Sustainability Manager; Stacy Wall, Senior Lecturer In Digital Advertising And Marketing Communications, Faculty of Medica Communications (FMC). With this stellar team in place, we are humbled to be supporting, through mentorship and other support, BU Eco Entrepreneurs Competition 2022 with Santander.
Background
BUSEF was set up in June 2019 by three individuals who are passionate about the power of social entrepreneurs in changing society- Sukanya Ayatakshi-Endow, BU; Gwyn Jones, Association of Sustainability Practitioners and Alun Williams, Rotarian.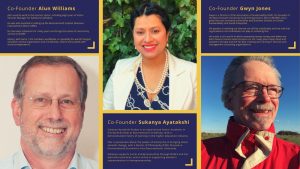 Our Vision  
To champion social entrepreneurship in BCP/Dorset.
Aims
Support and develop social entrepreneurship within BCP/Dorset
Encourage businesses generally to consider adopting a social entrepreneurship approach
Promote and encourage social entrepreneurship amongst students
Objectives
Support and develop social entrepreneurship within organisations in Dorset
Encourage businesses generally to consider adopting a social entrepreneurship approach
Promote and encourage social entrepreneurship among students through
Encourage BU students to undertake projects/placements/careers with social entrepreneurs
Establish BUSEF as an independent, sustainable, organisation
Since its inception, BUSEF has explored numerous avenues to support the development and growth of socially focused businesses in the community, including student-led projects at BU; showcase events including the Global Entrepreneurship week events – two in 2019 and two in 2020 on Women's Entrepreneurship in Covid-19 and Refugee Entrepreneurs and Covid-19; numerous skills-based sessions supporting the specific needs of individuals and businesses who aspire to or identify with social entrepreneurship.
Through numerous student projects at Bournemouth University Business School and Faculty of Media Communications, BUSEF has worked closely with many local small businesses and purpose-led organisations in supporting them with digital and social media marketing outputs; and business model innovation and business planning support. Some of the projects, our students in the final year of their study, have worked on, include Musica; The Poole Powerhouse Project; We Do Ethical; Vita Nova and many more. Kelly Levell, Founder of We Do Ethical, said " students brought in tremendous value added to our vision and gave us wider perspectives". Stacy Wall, whose final year students in FMC, who worked with B.O.L.D Lewy Body Dementia project, said , "An exceptional piece of work that was developed by our 2019/20 final year Communication & Media students was the piece that I shared at a BUSEF event that was developed for B.O.L.D. Colour & Sound". The Poole PowerHouse Team capped it all up by adding , "we are extremely grateful to all the students for their engagement, research and insights into our project.  They have all given us useful data, ideas and cause for thought".
Through the pandemic and its associated lockdown, BUSEF continued supporting social entrepreneurship through knowledge exchange projects via BU courses and other events and workshops. BUSEF was an exemplar in BUBS Small Business Charter Accreditation application (2021) and included in the BU Race Charter Application (2020-21).
With the experiential knowledge and observed impact of BUSEF on social entrepreneurship and on education, BUSEF is now poised to grow and is seeking additional support on numerous levels.  With our new advisory board, BUSEF aims to create a lasting impact on social entrepreneurship in the region through meaningful collaborations and projects.
If you are interested in the work of BUSEF and want to know more or get involved, please contact Sukanya Ayatakshi-Endow at the following email address:  sayatakshi@bournemouth.ac.uk