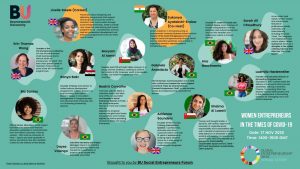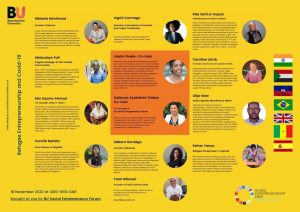 BU Social Entrepreneurs Forum  BUSEF is proud to present Global Entrepreneurship  Week 2020 with not one but two stellar events!
Last year we celebrated the very first Global Entrepreneurship Week at BU with two mega events  on campus and although this year the world is different but what's stopping us from celebrating and raising the bar even higher?
It is a proud moment for us to introduce this year's events- Women Entrepreneurs in The Times of Covid-19  supported by the Women's Academic Network at BU on the 17th of November 1400-1600 GMT (online) and Refugee Entrepreneurs and Covid-19 18 November 1400-1600 Online.
These events are aligned with the purpose of BU Social Entrepreneurs Forum in supporting the BU2025 commitment to UN SDGs and creating Fusion-led activities supporting research and student learning and experience.
BUSEF, created in partnership with the Association of Sustainability Practitioners, Dorset and The Rotary Club at Poole Bay is a collaborative, inclusive forum to support the knowledge exchange between academia and the developing landscape of socially focused businesses in the region. In the past one year BUSEF has facilitated a number of student-led projects across BU, organised a number of free skills-based workshops, showcased GEW 2019 and is continuing to support local businesses through online workshops and events.