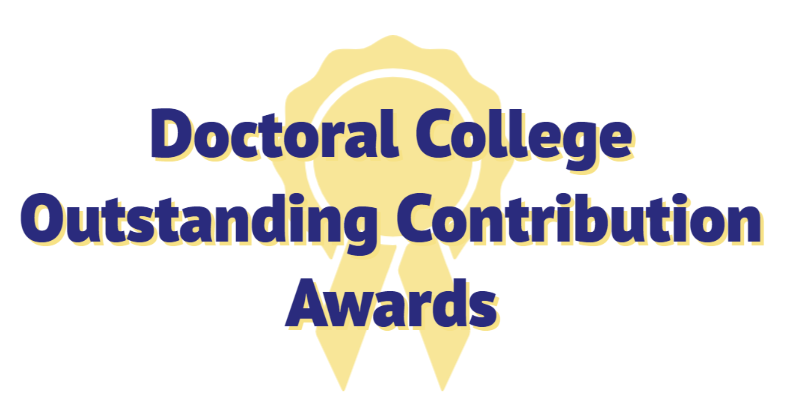 The Doctoral College team have been delighted with the nominations that have come in over the last month for the 'Doctoral College Outstanding Contribution Awards'. We wish to extend our congratulations to all recipients who have recently received their award certificate.
Here are some of the heartfelt nominations we have received:
"However busy he is, he always makes the time to support and encourage. Watching him supervise is inspirational, and I know that as I start my own PGR supervision journey – I am learning from the best!"
"She is an outstanding member of the PGR community. She is friendly, welcoming and inclusive. She generously offers a wealth of support to her peers about aspects of the research process and PGR journey."
"He goes above and beyond to assist with any technical queries, quickly provides expert advice and support, and responds positively to the many challenges thrown his way."
"He is is a passionate and gentle tutor who cares about the students' life and working state."
"She has gone above and beyond to support me on my PhD journey especially during the pandemic."
---
Why not make someone's day and take five minutes and nominate a PGR, academic or professional staff member for a Doctoral College Outstanding Contribution Award to say thanks and give recognition for their hard work?
These awards recognise the outstanding contributions to postgraduate research degrees at BU by any PGR, academic or professional staff member. They can be nominated throughout the year by any member of the postgraduate research community to anyone that they feel is exceptional, has exceeded expectations, and has had a positive impact on postgraduate research at BU.
Eligibility
You can nominate anyone involved in postgraduate research at Bournemouth University to receive an award certificate. There are no award criteria, as long as the submission falls within the guidelines, whoever you've selected will receive a Doctoral College Outstanding Contribution Award!
How to nominate
We've made it really easy for you to nominate someone for a Doctoral College Outstanding Contribution Award – it's just a short online nomination form!